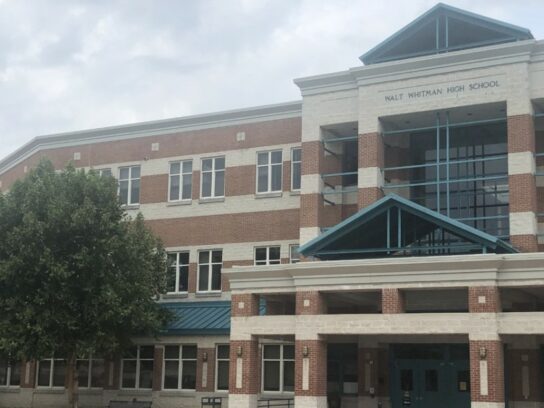 Three teens are facing charges for racially-themed vandalism at Walter Whitman High School. Montgomery County Police say a 17-year-old male has been charged as a juvenile for two counts of destruction of property. The second 17-year-old male has been charged as a juvenile with conspiracy to commit destruction of property, while the third, 18-year-old Jake Foster Hoffman of Bethesda, has been charged with conspiracy to commit destruction of property. Police say the two 17-year-old suspects are also residents of Montgomery County.
On Saturday, June 13, an officer responded to a call about racially-themed words and a racially-themed image that had been spray-painted on property on Walt Whitman High School's campus in Bethesda. According to an MCPD press release, a noose along with a racial slur had been spray-painted on a utility shed located near the entrance of the school. A racial slur had also been spray-painted on the pavement in front of the storage shed.
On March 1, another racially-themed vandalism happened at Walt Whitman High School. After investigating, officers realized the drawings were similar. Police say the first juvenile admitted to committing both crimes on separate occasions. MCPD says the names of juveniles and photographs will not be released because they are juveniles. A photograph of Hoffman is not available because he was charged via District Court Summons.
The Victims' Rights Foundation and its Youth Division are holding a rally and press conference today at 4:30 p.m. on the County Council Building steps to address racism in the community. Founder Gregory Wims says the non-profit organization performs volunteer support services on behalf of victims of violent crimes and attacks.
Victims' Rights Foundation Youth Chairman Andrew Audas, a junior at Whitman High School, says he has seen a lot of racially motivated hate crimes and is calling for change and awareness. He says the rally will be informative for all members of the community.
Watch this video for more details on the event.
Three Suspects Charged for Vandalism to Walt Whitman High Schoolhttps://t.co/N7GKF4kjff pic.twitter.com/Y0i1ZAdQq1

— Montgomery County Department of Police (@mcpnews) June 16, 2020
The Victims' Rights Foundation and its Youth Division will be hosting a rally today at 4:30 p.m. on the County Council Building steps to address racism in the local community. This comes after 3 teens were charged for racial vandalism at Walt Whitman High School. @VictimsRightsF

— MyMCMedia (@mymcmedia) June 18, 2020
See related posts below:
Teens Arrested for Drawing Noose, Racial Graffiti at Whitman High