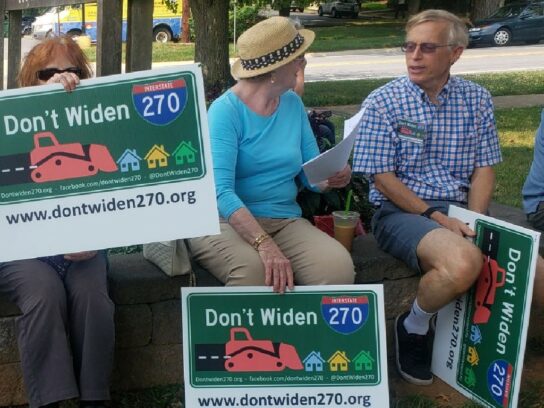 The three members of the Maryland Board of Public Works will vote Aug. 11 on whether to move forward with Phase 1 South of a managed toll lane road widening project that would extend from the American Legion Bridge to 1-270 to 1-370.
Gov. Larry Hogan, Treasurer Nancy Kopp and Comptroller Peter Franchot will vote on the controversial P-3, public private partnership program, which Montgomery County officials originally opposed. Currently, County Executive Marc Elrich remains opposed, but a majority on the county council now favor it.
If approved, the contract would be awarded to Accelerate Maryland Partners of Tysons, Va., which consists of several companies. Transurban USA  would be the lead project developer and contractor; Macquarie Infrastructure also would be the lead project developer and contractor; Dewberry Engineers and Stantec Consulting Services would be the lead designers; and Bechtel Infrastructure Corporation would act as supporting construction manager.
Meanwhile, Marylanders have until Aug. 12 to submit comments concerning rate ranges for this managed toll lanes project, which will be presented in summary at the Aug. 26 Maryland Transportation Authority meeting. For information on how to submit emails, printed remarks or call-in testimony, go to mdta.maryland.gov/ALB270TollSetting.
The agenda for the 8/11/21 BPW meeting is available via the following link:https://t.co/8hmy7fCd5Q
Have a great weekend, everyone.

— Maryland BPW (@MarylandBPW) July 30, 2021
Related Post
Politicians, Activists Rally Against Road Widening Before Crucial Vote Wednesday