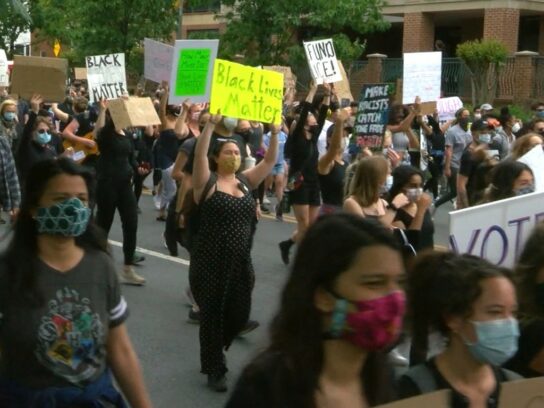 For weeks Matt Garfinkel and Nat Tilahun wanted to find a way to support the Black Lives Matter movement in Montgomery County.
"We felt like we couldn't not do something," Garfinkel said in an interview with MyMCMedia. "We really had to speak up."
So, the Walter Johnson High School graduates organized a protest for Saturday, June 27 that has accumulated a following of more than 2,000 people and has been featured on several local social media accounts.
The event, slated to begin at Walter Johnson High School Saturday at 1 p.m., will include a march along Old Georgetown Road and remarks from Rep. Jamie Raskin, Montgomery County Councilmember Will Jawando and several local activists.
*upcoming protests in Montgomery County*

Saturday 6/27 1pm, Walter Johnson HS, Bethesda (see flyer)
Sunday 6/28 1pm, Veterans Plaza, Silver Spring (more info: https://t.co/DHfXgwsY6b) pic.twitter.com/PG4DbJnmlo

— dan reed 🦀🏳️‍🌈👋🏾 (@justupthepike) June 24, 2020
"This is the peak moment for change and I wanted to go further than just signing petitions," Tilahun said."The issue of police brutality is such a daunting challenge but the only way we can make change is by bringing people together in our direct communities."
Both Tilahun and Garfinkel got their start in activism in high school. In the weeks since the death of George Floyd, Garfinkel has attended several local protests including one at Walt Whitman High School. Although Tilahun hasn't attended any protests because his parents are "worried about coronavirus," Saturday's protest is a controllable compromise, he said.
All marchers are asked to wear masks and maintain social distancing.