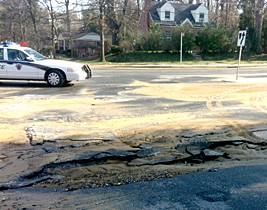 Water Main Break on Connecticut Avenue
UPDATED 1/8 Roadway repairs continue southbound on Connecticut Avenue. There is one southbound lane open.
===========================================================================================
WSSC crews are working to repair a 78-year old, 8-inch water main at 9826 Connecticut Avenue in Kensington. The water main break was first reported around 11 a.m. on Jan. 7.
WSSC Spokesperson Kira Lewis said repairs began about 12:30 p.m. but that crews were going to be on the scene through the evening rush hour on Jan. 7.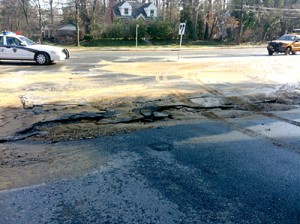 During the afternoon hours, Montgomery County police were warning motorists about the water main break on southbound Connecticut Avenue at Franklin Street. That's because the southbound lanes of Connecticut Avenue between Knowles Avenue and Saul Road in Kensington were closed while WSSC repairs were underway.
Police advised that all southbound lanes were closed and traffic was diverted at Connecticut Avenue and Knowles Avenue to 355.
Lewis said WSSC crews were trying to get at least one southbound lane open for the evening rush hour. She noted that traffic was moving smoothly on the northbound side of Connecticut Avenue.
The water was turned off while repairs were underway. According to Lewis, 18 customers were impacted by the shutdown.
Residents are encouraged to call 301.206.4002 (or toll free 1.800.828.6439) to report WSSC water or sewer emergencies in Prince George's or Montgomery counties.