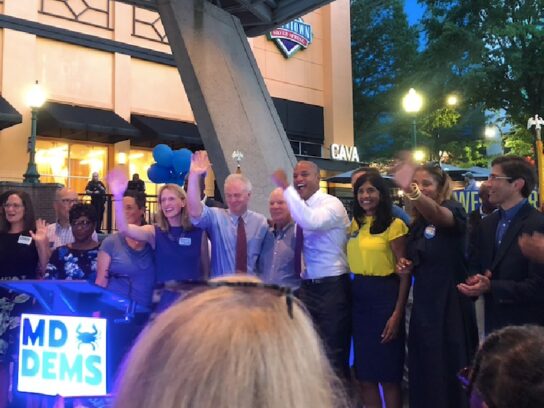 Wes Moore, Democratic nominee for Governor of Maryland, spoke during an All Blue in '22 Rally with Maryland Democrats at Veterans Plaza in Silver Spring on Monday.
The Associated Press declared the author and former nonprofit CEO as the Democratic primary winner. Other Democratic candidates joined the event Monday night.
Moore, who was born in Takoma Park, told the crowd he is honored to be the next Democratic nominee. He pledged to accelerate the $15 minimum wage, ensure full funding of the Blueprint for Maryland's Future, address climate change, support veterans and attract businesses and entrepreneurs. 
Moore and running mate Aruna Miller will face Republican candidate Dan Cox and running mate Gordana Schifanelli in November. 
"99 days, let's go!" Moore ended. If elected, he would be the first Black governor of Maryland.