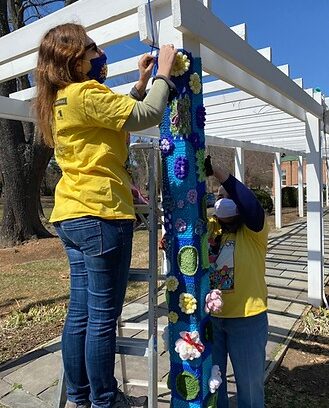 The sixth annual Wheaton Arts Parade and Festival will be held Sunday, Sept. 25 from 10 a.m. to 5 p.m.
"Walk with us – artists, friends, neighbors, and community groups as we 'Parade the Triangle' through Wheaton's town center to our new town plaza on Reedie Drive," the festival website reads.
The event, held every September, will feature over 50 local artists and organizations as well as performances and family activities. Festival-goers can dine nicely from the city's popular destinations.
Attendance is free. Anyone interested in joining the parade is allowed if they push, pull, carry, wear or perform art. Registration to walk in the parade closed on September 12th, but same day registration will be open before 9:00 a.m.
The parade will start at the intersection of Grandview and Ennalls avenue and end at the festival site. Marian Fryer Town Plaza.
Those interested in seeing the parade map can find it online at the Wheaton Arts Parade website. here.
Music and dance performances will begin at noon. The lineup of performers includes Strathmore artists like Taisha Estrada, Amadou Kouyate and Seán Heely as well as local musicians Roadside Attraction, Dir and the Howlers, Spencer J, and more.
The community event's aim is to bring the city of Wheaton together through art, celebrating the diversity and art talent in the area. Wheaton is one of three Maryland Arts and Entertainment Districts in Montgomery County.
More information on the event can be found Wheaton Arts Parade website.
The Sixth Annual @WheatonMD Arts Parade and Festival returns to the streets of Wheaton on Sunday, Sept. 25, with activities on Marian Fryer Town Plaza in Downtown Wheaton following the unique parade. Details ➡️ https://t.co/YUhRD7xTBe. pic.twitter.com/b4XOJoGLlK

— Montgomery County MD (@MontgomeryCoMD) September 14, 2022
Wheaton will be filled with artists and art lovers during the Wheaton Arts Parade and Festival on Sunday, September 25, 10 am to 5 pm, on Reedie Drive.

Parade, musicians, singers, dancers, art, and children's activities.

Free admission!: https://t.co/UGN7fBi1HK. pic.twitter.com/SULm1l4C2c

— Montgomery Parks (@MontgomeryParks) September 11, 2022