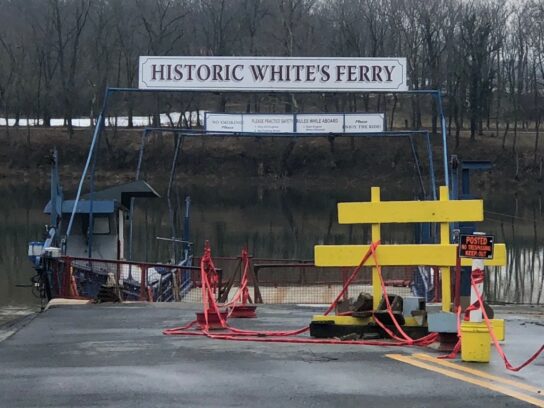 After more than 230 years of service, historic White's Ferry has been shut down since December 2020 due to a legal dispute
Poolesville leaders held a forum Wednesday evening at the Town Hall for residents to hear updates about the ferry's future.
"The ferry will run again," said Chuck Kuhn, owner of White's Ferry since February and CEO of the Sterling-based company JK Moving Services. He committed to reopening by next summer.
"One way or another, that ferry will be open and moving before summer of '22."
"That's my commitment to Poolesville, to my family, to the Loudoun County community," Kuhn said.
The ferry closed in December following a court ruling that found there is no legally established public or private landing on Rockland Farm, the Virginia property where the ferry operates. In February of this year, Kuhn purchased the ferry, store and Maryland shoreline that facilitates operation. He said Wednesday that negotiations with the Virginia shoreline that could lead to reopening were unsuccessful.
"There was just no reasonable conclusion to the negotiations," he said. Kuhn noted a study of the ferry's operations is underway, which includes identifying legal/regulatory requirements for operations and operating alternatives like a public/private partnership, according to a release from Montgomery County. Loudoun initiated the study with Montgomery County and state support, Kuhn said.
He said the fate of the ferry will lie in the hands of the Loudoun County Board of Supervisors. If the board supports claiming eminent domain of the Virginia property following the study, Kuhn will be able to reopen the ferry. He believes it will be successful.
"I think they are well aware how important it is to the state of Maryland, Poolesville, Montgomery County and you. So, I think we're months away from having success with eminent domain, if you ask me."
Kuhn said the study will wrap up in September and expects the Board of Supervisors to make a decision during a December meeting. Kuhn said he is confident in the direction Loudoun is moving toward, and also based on support from both counties. But, if claiming eminent domain fails, he said there are other options.
The facility is about 10 employees short, Kuhn said, and he plans to begin staffing licensed boat captains who must fill the positions. After the ferry is staffed and running again, Kuhn plans to bring the ferry "into the 21st century" through advancements like upgrading WiFi capabilities and letting residents order food to be brought to their cars. He plans to work toward a grant for an electric ferry that would be more environmentally friendly.
In Poolesville for a public forum about the future of White's Ferry. It's been shut down since December over a legal dispute.

Standing room only. @mymcmedia pic.twitter.com/fMZ6hGNgnT

— Maryam Shahzad (@maryam_mcm) August 18, 2021