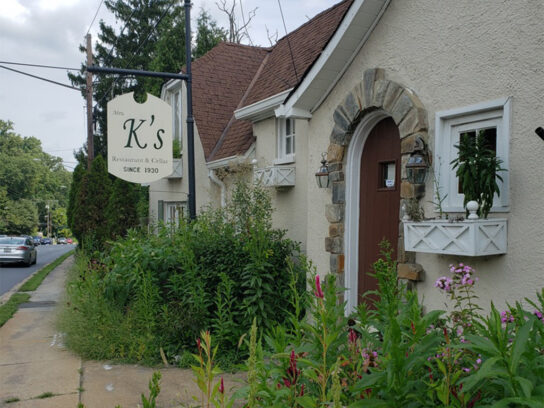 Mrs. K's Toll House, which has been a fixture on Colesville Road in Silver Spring for 90 years, will reopen as early as June – under the name Zinnia – as a wine and beer garden, according to Chris Brown, an owner and manager at Takoma Beverage Co. Future plans call for an indoor cafe and eventually a full indoor restaurant.
Brown, who drove past the Tudor-style restaurant every day when he was a science teacher at Montgomery Blair High School, always admired the building and, in particular, the surrounding flower-filled gardens. When he saw the For Lease sign, he immediately thought that this would be a great next step, having operated Takoma Beverage since 2017.
"We've been looking for something to do next," referring to he and his cousin, Seth Cook.
His goal is to have a wine truck, beer tap and snacks set up outside by June or July. He currently is looking at Craig's List for furniture to recreate the outside gardens as they appeared in the 1940s and 1950s.
Then, depending on Covid-19 restrictions, he hopes to welcome guest into the front of the restaurant, which will be designed as a cafe. By the winter, he plans to open up the large building to dining. "Brunch is mandatory, crab cakes all that kind of stuff that were the staples will soon be there, and there will be some additions as well," he said.
The new restaurant will be called Zinnia, both to commemorate the beautiful gardens and in honor of his seven-month-old daughter, whose name is Tess Zinnia. Once Brown's wife suggested it, "The name Zinnia kind of took root." said Brown, who has a long-term lease on the building.
MyMCM interviewed Brown about Mrs. K's transformation to Zinnia.
Recent Post
Mrs. K's Toll House Restaurant, a Silver Spring Landmark, Hopes to Reopen