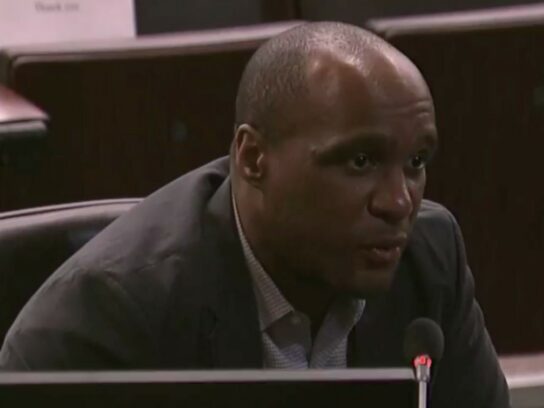 "For my colleagues who don't look like me, let me explain it to you."
During a virtual discussion about health, racial justice and COVID-19 with Montgomery College President Dr. DeRionne Pollard, County Health Officer Dr. Travis Gayles discussed how racism impacts the way he moves through life.
"I think of examples when I go into meetings, I am not only having to be present to talk about the business at hand, but I also am very careful to monitor my body language, my tone," Gayles said. "Because I am recognizing I am under a microscope and don't want to be perceived as angry, or hostile or arrogant based upon the comments in terms of how people perceive me and how they view me." During Gayles' senior year of college, he had a Black professor who described ontological fatigue, or a "heaviness of existing" that came with being a Black professor at a predominantly white college. He likened it to his own experience as the county's health officer.
"There is a heaviness of existing that comes within that, because you have to not only be present to operate within what you're trying to accomplish— so whether it is being in a meeting, executing a pandemic plan, leading an institution of higher education… but at the same time you also have to process your place in that space, as well as watching everything else that goes on and seeing what's happening to people who look like you," he said.
The experience is similar to how Black people interact with law enforcement, Gayles said.
"We have to assume a posture even if we have done absolutely nothing wrong, to diffuse the perception we are angry, hostile or intimidating or threatening because we have seen the effects of that in those spaces," he said. "And, it's heavy having to constantly navigate that and deal with that."
Gayles recalled an interview with MyMCM, when he was asked when he received his first "talk" from his parents. The "talk" refers to a discussion that many minority parents, particularly parents of Black children, have to prepare their children to navigate racism.
"And my response was— which one?" Gayles said.
"When did they not have the talk with me?" Pollard said.
Gayles continued, "Was it the talk to say that you have to work twice as hard and do twice as much to be seen as legitimate in your space? You have to be careful about your tone and posture and all of those things to not be perceived as threatening or fill in the blank? You know, there's a whole litany of those conversations."