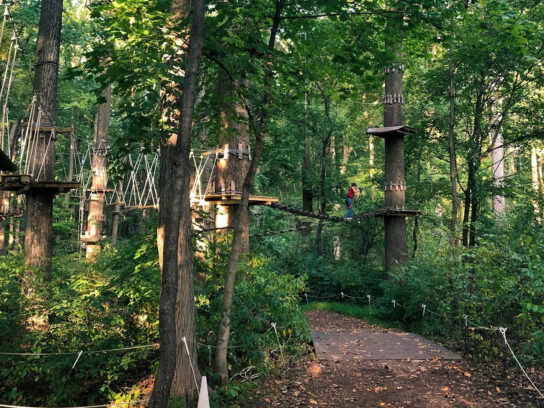 The Adventure Park at Sandy Spring Friends School announced plans to reopen Saturday. In order to visit, people must reserve tickets in advance on the park's website.
In lieu of COVID-19, The Adventure Park has taken several measures to ensure the park is a safe environment for both visitors and staff. Guidelines are now set in place for sanitization and social distancing. Staff members will also be required to follow certain policies.
Sanitization of Course and Equipment
Additional cleaning of common areas (restrooms, harnessing, de-harnessing, and check-in areas)

Establishment of additional hand-sanitizing and hand washing stations throughout the park

Antibacterial and antimicrobial cleaning solutions will now be used on metal climbing clips and zip-trolleys.
"Loaner" gloves will no longer be provided. Guests are encouraged to bring their own gloves. If they choose not to, gloves may also be purchased during the reservation process. Guests will also not have access to lockers.
Social Distancing Procedures
Masks must be worn at all times.

Cash will no longer be accepted. Tickets will be paid for by card online.

Visits must be scheduled ahead of time. No reservation, no visit.

"Arrival Pods" will be monitored. Arrival Pods consist of anyone who arrives in the same group. Platforms may not be shared with anyone who is not in the same group. A maximum of three people from the same Arrival Pod may share a platform at once.
Staff Policies 
At the start of each shift, all staff members will be screened with COVID-19 exposure questions.

Any staff member who displays symptoms will be sent home.

Like visitors, staff members will be required to wear a mask at all times.

Staff members will provide increased cleaning of both common areas and equipment.

While working, staff members will continue to practice social distancing. However, they may need to exceed six feet to provide assistance. Staff members will be equipped with proper face coverings as well as wear appropriate PPE at all times.
Owner John Hines released a message on the website. His message states, "I need your help. I take my responsibility as a business owner seriously. The policies and practices I put in place are not just for your benefit. They honor my commitment to the Adventure Park Staff to provide a workplace which is as safe as possible during these challenging times. We need your help to provide the safest experience for everyone. Guests who are unwilling to help me honor those safety commitments will not be welcome at The Adventure Park. I look forward to seeing you in the trees!"
As June 13 is already sold out, guests are encouraged to reserve their tickets as soon as possible. 
To purchase tickets or learn more about the new safety measures, visit https://sandyspringadventurepark.org/covid-19/