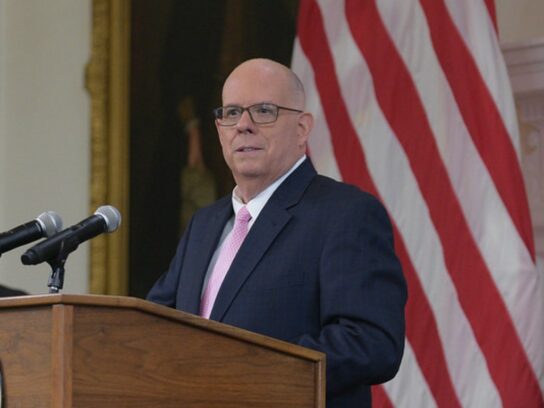 Effective immediately, all Marylanders ages 16+ can preregister with the state for a COVID-19 vaccine appointment at a mass vaccination site, Gov. Larry Hogan announced at a press conference Thursday.
Hogan said the state will likely be able to announce further acceleration of vaccine eligibility in the days ahead. He met with the White House Coronavirus Task Force on Tuesday and this week, the state began to see an increase in vaccine doses from the federal government. Hogan said The White House pledged similar supply in the weeks ahead.
He stressed that those currently eligible for vaccines under Phases 1 and 2 will continue to be prioritized for appointments. The Montgomery County health department opened preregistration to residents ages 16+ on Wednesday.
On Tuesday, Maryland entered COVID-19 vaccine Phase 2B, expanding eligibility to residents ages 16+ with underlying medical conditions that increase their risk for severe COVID-19, and those with disabilities. During a March 18 press conference, Hogan said Maryland will enter Phase 2C on April 13, making Marylanders ages 55+ and essential workers of all ages in critical industries eligible. Those industries include food service, construction, financial services and IT among others.
Gov. Hogan says effective immediately, all Marylanders ages 16+ can pre-register with the state for a vaccine appointment at a mass vaccination site. @mymcmedia

— Maryam Shahzad (@maryam_mcm) April 1, 2021
Hogan also announced that beginning Friday, the Salisbury mass vaccination site at the Wicomico Youth and Civic Center will open a "no appointment necessary, walk-up line" for any eligible resident. He said the state plans to add walk-up lines at other mass vaccination sites as well.
"However, we still recommend that the best way to ensure that you get a vaccine at any of our sites is to preregister and to schedule an appointment, again at covidvax.maryland.gov to ensure that a vaccine and an appointment is available to you," Hogan said.
Also Thursday, Hogan said he directed the state departments of health and aging to work with jurisdictions to plan safe reopenings of senior centers. He said prior to reopening, "closed pod vaccination clinics" will be held at senior centers.
New: Gov. Hogan announces the Eastern Shore mass vaccination site in Salisbury will open a "no appointment necessary, walk-up line" for any eligible resident beginning tomorrow.

The plan is to add "no appointment lines" at other mass vax sites as well. @mymcmedia

— Maryam Shahzad (@maryam_mcm) April 1, 2021