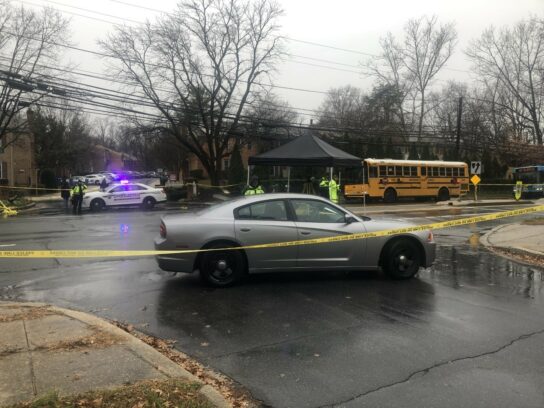 Montgomery County Police say a 17-year-old Walter Johnson student was struck by a vehicle on Montrose Road and Bargate Court in Bethesda on Friday morning. Officials say this happened shortly after 7 a.m. when he was hit by a small SUV while walking to get on a school bus.
The student has been taken to a local hospital with serious life-threatening injuries. Officials say the driver stayed on the scene, and this is an open investigation.  This is the second juvenile pedestrian involved accident that has happened in Bethesda within a 24-hour time span.
MCP on scene of a juvenile pedestrian struck at Montrose Road and Bargate Court. Vehicle remained on scene. Call received at 7:18 a.m. PIO enroute to the scene.

— Montgomery County Department of Police (@mcpnews) December 13, 2019
Update – Montrose Road, pedestrian struck @MCFRS_EMIHS transporting 1 teenage Pri1 trauma w/ LT injuries, some lanes blocked, PD on scene https://t.co/hSLcy8Lcdz

— Pete Piringer (@mcfrsPIO) December 13, 2019
On Thursday evening, a 9-year-old Bradley Hills Elementary School student was struck by a school bus at Millwood Road and Tanglewood Drive in Bethesda. She was taken to Children's National Hospital where she died of her injuries.
The bus driver, Serigne Makhtar Ndiaye, 53, of Severn, had just unloaded several students including the victim from the bus, and was turning right onto northbound Millwood Road from westbound Tanglewood Drive.
Police are currently investigating this incident.