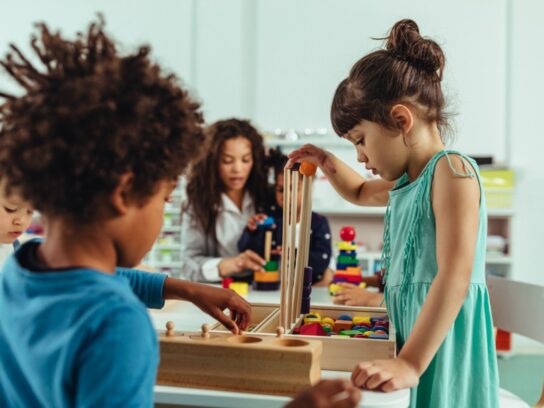 El Concejo del condado de Montgomery aprobó el martes por unanimidad el Proyecto de Ley 42-21, que requeriría que el Concejo designe una corporación sin fines de lucro para servir como la Entidad Coordinadora de Cuidado Infantil y Educación Temprana, así como establecer sus pautas y deberes. El presidente del concejo, Gabe Albornoz, y los miembros del concejo, Nancy Navarro y Craig Rice, son los patrocinadores principales del proyecto de ley, y todos los demás miembros del concejo son co-patrocinadores.
El cuidado y la educación de la primera infancia (ECE) asequible y de alta calidad es un servicio esencial para el bienestar y el futuro de los niños y sus familias. También es fundamental para los empleadores. Como resultado de la pandemia de COVID-19, el acceso a dicha atención se ha vuelto cada vez más difícil. Los programas ECE accesibles, de alta calidad y sostenibles permiten que más padres participen en la fuerza laboral, brindan una base educativa sólida para los hijos, ayudan a los empleadores a atraer y retener a personas talentosas y aseguran una futura fuerza laboral talentosa para ayudar a impulsar la economía local, según el comunicado del concejo.
Council Unanimously Approves Bill, Led by Council President Albornoz and Councilmembers Navarro and Rice, to Establish an Early Care and Education Coordinating Entity in Montgomery County. 📰 Read more: https://t.co/LGNzek30HH pic.twitter.com/xNJ81TK8ME

— Montgomery Council (@MoCoCouncilMD) February 15, 2022
"Establecer una Entidad de Educación y Atención Temprana pública privada independiente en el condado en medio de una recuperación de COVID-19 requiere que miremos hacia el futuro e invirtamos en un cambio sistemático real y duradero", dijo el presidente del Concejo Albornoz, quien es presidente del Comité de Salud y Servicios Humanos.
"Estoy encantada de que hayamos alcanzado este hito increíble en los esfuerzos del condado para ampliar el acceso a cuidado y educación temprana de calidad para nuestras familias trabajadoras", dijo la concejal Nancy Navarro, quien presidente el Comité de Política Fiscal y Operaciones Gubernamentales y es miembro del Comité de Educación y Cultura.
La Entidad Coordinadora de Cuidado y Educación Temprana, creada a través de esta legislación, servirá como una entidad público-privada para ayudar a construir un sistema más unificado y reunir a todas las partes interesadas, incluidos proveedores de salud, agencias de servicios sociales y otras organizaciones de apoyo, empleadores y proveedores de cuidado infantil. Su objetivo es ayudar a facilitar una recuperación económica sostenible para el condado y el crecimiento futuro al ayudar a identificar las necesidades y coordinar los recursos en todo el sistema ECE, según el concejo.
La entidad elegida será una corporación sin fines de lucro y sin acciones de Maryland, exenta del impuesto federal sobre la renta y con sede en el condado. Su directorio tendría nueve funcionarios gubernamentales de oficio y 12 miembros del sector privado designados por el Ejecutivo y confirmados por el Concejo.