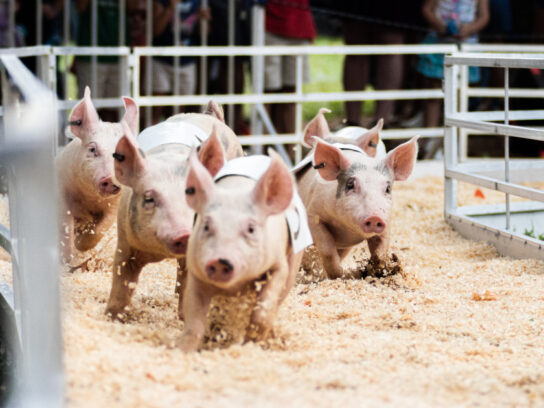 Welcome to our Weekend Roundup of events in Montgomery County. Here are nine things to do this weekend:
Friday, August 12
Montgomery County Agricultural Fair: The 73rd annual MoCo Agricultural Fair is back again for another year of great food, games, and entertainment! From Aug. 12-20, families and friends can come out to enjoy the fun. Ticket prices and hours for each day can be found here, with other information such as performances, ride passes, vendors, and more throughout the website.
Lakefront Live: From 6-9 p.m., enjoy an evening of food, music, and good vibes during Lakefront Live's Joe Falero Band performance. The event is 21+ and free to the public, aside from additional purchases. The location is 209 Boardwalk Place, Gaithersburg, MD 20878. More details on the event can be found here.
Walk This Way Art Experience: Are you a lover of taking walks and appreciating nature? Then this is the perfect event for you. Montgomery Parks is hosting an interactive art installation along the Kingsley Trail in Little Bennett Regional Park, located at 23701 North Frederick Road, Clarksburg, MD 20871. Those interested are invited to stop by at any point to follow the mile long trail, where signs by artist Inga Adda are placed along the way. The experience will be open to the public until Dec. 31. More details on the event can be found here.
Saturday, August 13
Ukefest: This year marks Strathmore's 14th annual Ukefest, which includes 8 hours of skill-based classes, 5 hours of "Choose Your Own" class sessions, jam sessions and ensemble work, and admission to the Student and Faculty showcase concerts. The event runs from Aug. 13-17 and is $488. To register for the event, click here. Registration closes on Aug. 12.
Parks Playhouse Junior: The New Orchestra of Washington and the Montgomery Parks Playhouse Junior have been partnering to bring performances to children ages 3-12. From 10-11 a.m. they will host a puppet show based on Rapunzel that is free to the public. The event will be located at the Falls Road Local Park at 12600 Falls Road, Potomac, MD 20854.
Treat the kids to a free concert and puppet show this week! Parks Playhouse Junior presents:

*@NOW4WOW Music Workshop – August 11, 10 am, Flower Ave Urban Park

*@thepuppetco – August 13, 10 am, at Falls Road Local Parkhttps://t.co/Esdb85y6TQ pic.twitter.com/iNdsAvxsLf

— Montgomery Parks (@MontgomeryParks) August 8, 2022
Whitetails Farm Sunflower Fields: From 10 a.m to 9 p.m., Whitetails Farm is hosting a "Summer Sunflower Fest" where attendees can enjoy picking out sunflowers, great food/drinks, and a raffle for local goods. The event is $5 for children ages 3-13 and $20 for adults. Tickets can be purchased here. The address for the event is 11511 Piedmont Road, Clarksburg, MD 20871.
Sunday, August 14
Farmers Market at Cabin John Village: From 9 a.m. to 1 p.m., enjoy local markets and entertainment at Cabin John Village. The event is free to the public and located at 11325 Seven Locks Rd, Potomac, MD 20854. For upcoming Cabin John Village events, click here.
Silver Spring International Festival: Over 60 crafters and small businesses are coming to Downtown Silver Spring for the International Food & Craft Festival! Located at 1 Veterans Place, Silver Spring, MD 20910 from 1-7 p.m., enjoy a day of artwork and food. All are welcome.
The International Food & Craft Festival is Sunday, August 14 at Veterans Plaza! Featuring over 60 artisans, authentic foods, international music, and more. 1PM -7PM https://t.co/z7xC3b5shi pic.twitter.com/ckLK04qrOH

— Silver Spring Urban District (@SilverSpringMD) August 9, 2022
Families Outside Creek Crawl: The Croydon Creek Nature Center is hosting an afternoon where individuals can explore the creek for macro-invertebrates and other animals. It is encouraged that those attending wear closed-toed shoes and bring a towel. The event is $7 and located at 852 Avery Road Rockville, MD 20851. Registration is required, and can be found here.