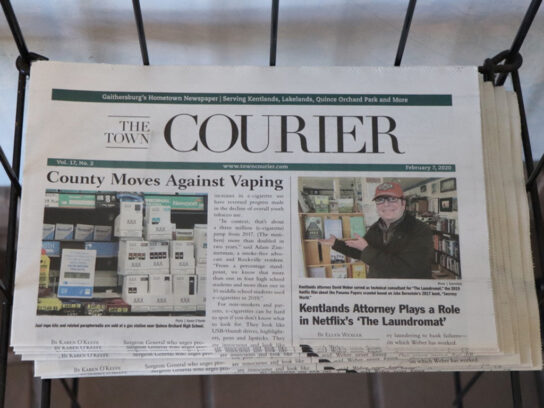 There's more bad news for local news in Montgomery County. The Town Courier, an independent newspaper in Gaithersburg, announced it is "closing up shop" after 17 years.
A statement from the editor posted on The Courier's website on Feb. 20 says, "The Town Courier will be suspending publication to reorganize. We want to thank local business owners, the City of Gaithersburg, and especially our readers for their support."
Pam Schipper, the editor of The Courier, said in an email to MyMCMedia that the newspaper was funded entirely by advertising revenue and "the suspension was due to not enough advertising revenue to meet costs."
The Courier covered news in the Kentlands, Lakelands, Quince Orchard Park, and Washingtonian Woods areas and was especially skilled at covering high school sports. A copy of the courier was mailed to these areas twice a month and it was also distributed at several establishments in Gaithersburg.
If you haven't heard, The Town Courier will be officially closing up shop. Thank you to everybody involved and of course the loyal community over the years. It has been a tremendous amount of fun and we will be seeing you around! #TownCourier https://t.co/uxT5ANCpWL

— The Town Courier (@TownCourier) March 4, 2020
On Tuesday, The Town Courier tweeted a video featuring photographer Mac Kennedy and staff writer Syl Sobel confirming that The Courier was closing and thanking the community for their support.
Sobel said in the video he has fond memories of covering high school sports and football championships. He said he will never forget interviewing Tyler Terry, a former Quince Orchard High School student, who died at 17-years-old on Jan. 29, 2018 after he was hospitalized for cardiac arrest. Terry was a defensive end/linebacker for Quince Orchard and Sobel said he was "an important part of Quince Orchard's state runner-up football teams" for the 2016 and 2017 football seasons.
"He was one of those kind of shy kids the first time I met him [his] junior year. His senior year he was chatty as can be. Just watching him grow up and mature was such a pleasure for me and losing him so soon was such a tragedy," Sobel said.
Kennedy and Sobel said they would continue covering sports in Gaithersburg even though The Courier was coming to a close.
https://www.instagram.com/p/B9UbmPKhyfk/
Jud Ashman, mayor of the City of Gaithersburg, said in an email to MyMCMedia that The Town Courier had been a "meaningful voice and source of news" for the people of Gaithersburg.
"We are grateful for their coverage and for the role they've played in helping to create a sense of place here. And we're going to miss them," Ashman said.
According to The Courier's website, the publication had 20 people who worked for the local news organization. The news of the Courier's closing comes nearly a month after the Montgomery County Sentinel's last publication.