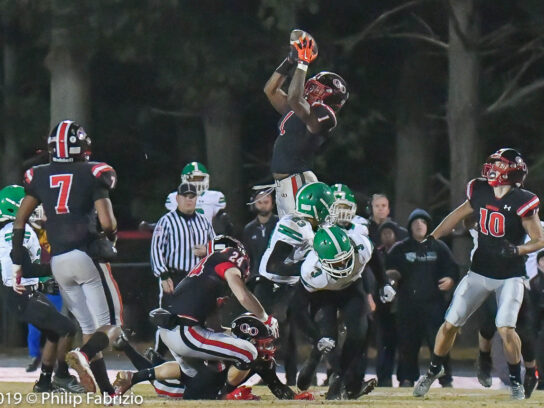 Cougar Dome – Gaithersburg, MD:  Friday, November 21, 2019
Quince Orchard kept it grounded against Arundel in the third round of the MPSSAA State football playoffs.  Amid some on and off-field distractions, Quince Orchard took this game in business-like fashion.  They dispatched the upstarts from Annapolis 69-32 in a wild and chippy game.
Arundel upset state top-ranked South River on South River's home turf last week to earn this date with Quince Orchard.
South River fans traveled to Gaithersburg to view this match up.  Apparently, there is some "bad blood" between those two teams and the Cougar faithful gained some cheering South River fans as a result.
The first half show cased Quince Orchard's running game behind the legs of Marquez Cooper.  Leading 42-13 and the start of the second half, the Cougars would only need two plays to secure a 49-13 lead.  The running clock, ticked on until Arundel began their rally.
Taking the subsequent Quince Orchard kickoff, Arundel marched down the sidelines using it's passing attack to improve to a 49-19 score, stopping the running clock.
Arundel would successfully convert two squibbed kickoffs in search of a Quince Orchard miscue, fumble, or uncovered free ball.  The ensuing touchdowns narrowed the score to 49-32.
On what now would be Arundel's fourth squib, Quince Orchard's Charles Bell IV secured the ball and returned it untouched 50 yards for a touchdown.
With the score at 56-32, Quince Orchard's defense rose up and held Arundel scoreless for the remainder of the 4th quarter. Quince Orchard added 14 more points to secure the win.
Quince Orchard will next play at home against Northwest on Black Friday.  Winner of this semi-final state playoff game moves onto the state title game.
Photos to follow
Images provided by Daryl Schultz and Phil Fabrizio