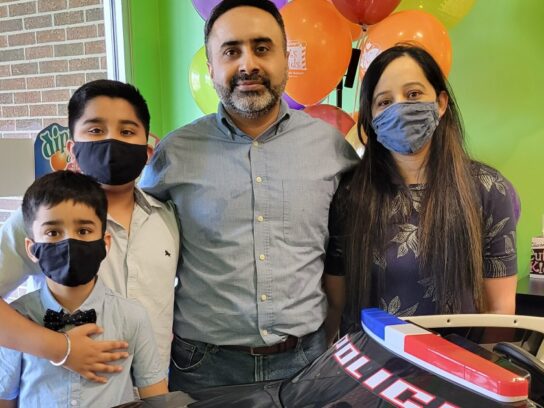 Kids can watch their favorite shows, play their favorite video games, sit in fun chairs such as a fire truck or police car, while getting trimmed at Sharkey's Cuts for Kids.
The Gaithersburg-Germantown Chamber of Commerce (GGCC) conducted a ribbon cutting ceremony and joined Sharkey's Cuts for Kids at their celebration on April 22. They are located at 804 Muddy Branch Road in Gaithersburg.
Their mission is to create an entertaining experience for kids by providing a superior haircut with warm, experienced stylists in a meticulously clean and sanitized place filled with fun not found in other kid's salons. At Sharkey's, all haircuts come with a wash, cut, blow-dry, fun cars or X-box gaming stations, video streaming with Hulu and Disney, minicures, lollipops, and a balloon. Learn more at www.sharkeyscutsforkidsgaithersburg.com.