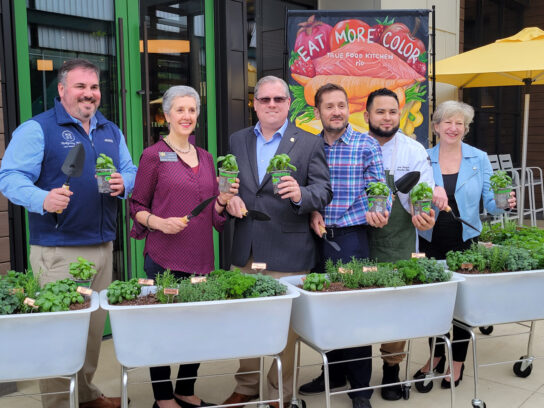 True Food Kitchen celebrated their grand opening in Gaithersburg by planting herbs, instead of cutting a traditional ribbon.
The Gaithersburg-Germantown Chamber of Commerce (GGCC) conducted a ribbon cutting ceremony and joined True Food Kitchen at their celebration on April 25. They are located at 221 Rio Boulevard, Gaithersburg.
"We are delighted to see True Foods open in Gaithersburg," said Marilyn Balcombe, GGCC President / CEO. "They are a welcome addition to the great restaurants, retail and entertainment in the Rio."
True Food Kitchen is a chef-driven restaurant and scratch bar featuring a seasonal lineup of creative, crave-able dishes and handcrafted cocktails—with a healthy twist. True Food's menu emphasizes wholesome, nutrient-dense ingredients with thoughtful preparations to highlight the natural health benefits and flavors. Learn more about them at www.truefoodkitchen.com/gaithersburg.