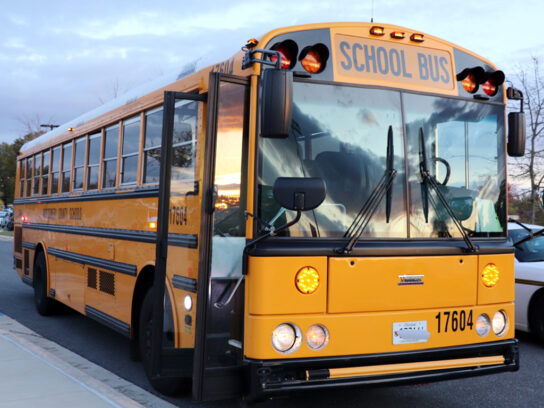 It was announced during Gov. Larry Hogan's Thursday press conference on the coronavirus pandemic that starting Monday, March 16, all public schools in Maryland will be closed through Friday, March 27. Hogan also announced the state is prohibiting gatherings larger 250 people.
The decision to close schools was recommended by Karen Salmon, the state superintendent of Maryland Public Schools as a measure to prevent the spread of COVID-19 in school communities throughout the state.
Salmon also announced that "scheduled school-sanctioned travel for students and staff will also be canceled immediately." Montgomery County Public Schools announced Wednesday it was canceling travel and athletic trips. MCPS confirmed on Twitter, that per state recommendation, it was closing schools to address the coronavirus pandemic.
During the closing period "all public school buildings will be cleaned and disinfected to prevent the spread of the virus," Salmon said.
Salmon recommended days scheduled for spring break be used as makeup days for the school closure.
All MCPS schools will be closed starting March 16, 2020 until March 27, 2020. This decision was made by Governor Larry Hogan and Dr. Karen Salmon today, March 12, in response to the COVID-19 (coronavirus) pandemic. Additional information will be posted at https://t.co/3UJVLWkg2H.

— MCPS (@MCPS) March 12, 2020
"Administrators, faculty, staff, and parents and guardians should begin to immediately prepare for and to put into place measures for the continuity of educational services during a prolonged period of school closure."
In case of a prolonged school closure, the state department is currently developing a plan for childcare services, especially for parents working in the healthcare industry, Salmon said.
Salmon said the state is working to ensure students in need of meals are still provided with this service during the school closure period.
Fran Phillips, deputy secretary of public health services for the Maryland Department of Health, called the outbreak in Maryland "a public health emergency." Phillips said these measures have three goals, all aimed at protecting Marylanders: to slow the spread of infection, protect vulnerable people, and provide essential services.
Hogan said everyone needs to do their part to take serious actions to limit day-to-day interactions and activities. He directed the Maryland Emergency Management Agency (MEMA) to move to its highest activation level in order to mobilize all available resources. 
The governor enacted an executive order to activate the national guard and move it to a higher state of readiness. He approved another executive order prohibiting all social, community, religious, recreational and sports gatherings of more than 250 people in close proximity at all locations and venues in Maryland. He said they must be postponed or canceled. All senior activity centers will be closed until the state is no longer under a state of emergency. 
All nonessential state employees who are approved for telework will now be required to do so. Public access to state buildings will be restricted. 
He said all hospitals must immediately adopt new visitor policies, including allowing only one adult visitor per patient, screening all visitors for flu-like symptoms, prohibiting any visitors under 18, and prohibiting any visitors with international travel. 
All state prisons will suspend visits. 
Hogan delegated all of his day-to-day non-crisis duties to Lt. Gov. Boyd Rutherford so that Hogan can fully focus on managing the coronavirus outbreak. 
In an update to the 12 total coronavirus cases in Maryland, three have fully recovered and passed their quarantine stage, said Phillips.
Letter from MCPS About Schools Closing
MCPS emailed the school community the following letter following the governor's announcement:
Dear MCPS Community:

Together, we are facing a significant health crisis in our county, state and nation. In light of the new guidance and decisions made by Governor Larry Hogan and State Superintendent Dr. Karen Salmon today, March 12, all Montgomery County Public Schools (MCPS) will close beginning Monday, March 16 and will remain closed through Friday, March 27. All school-sponsored activities, events, field trips and athletic events are also cancelled. Our administrative offices will remain open. Health officials have determined that school closures are a necessary and effective way to stop the spread of COVID-19 (coronavirus).

Educational resources and materials in hard copy format will be distributed to elementary and middle schools on Friday, March 13. Additional information will be shared tomorrow, Friday, March 13, about these materials and plans for secondary and online materials.

We also recognize that many of our students rely on our Free and Reduced-price Meals (FARMS) and that closing schools can create unintended barriers to meals. To ensure students have access to healthy meals while schools are closed, MCPS is prepared to distribute food during this closure and will share locations and times in the March 13 update.

The health and safety of our students and staff remain our top priority. Please continue to take preventive measures and look out for each other. We encourage you to follow the guidance of federal, state and local health officials:

Avoid mass gatherings.
Avoid non-essential travel.
Stay away from others when you are sick, and avoid close contact with people who are sick.
Avoid crowded areas or places where you might interact with people who are sick.
Keep distance between yourself and other people.
Get information from fact-based resources, such as the Centers for Disease Control and Prevention, the MCPS website and the Montgomery County Government website.
Regular updates will be shared with the community over the coming days. Please visit the MCPS website frequently to stay up-to-date with the latest information.

Sincerely,
Montgomery County Public Schools