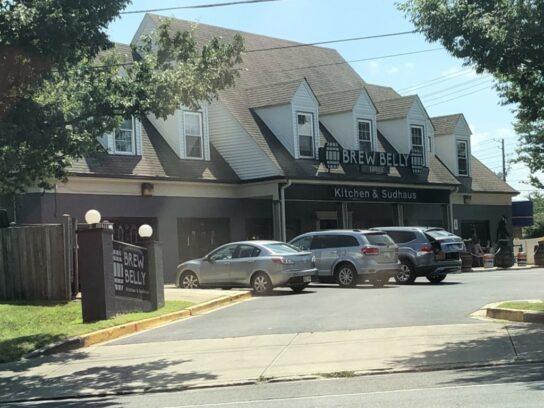 An employee of Brew Belly in Olney was spat on July 31 by a disgruntled customer refusing to wear a mask.
"Never did we think we would be making a post like this," Brew Belly wrote on its Facebook page Aug. 1. "We appreciate the patrons that were around at the time that stepped in to action – THANK YOU. We look forward to continuing to serve our Olney community safely."
The patron responsible ignored Gov. Larry Hogan's executive order requiring that masks be worn in any space where goods are sold.
https://www.facebook.com/mybrewbelly/posts/604545366927037
The Brew Belly Facebook post included a message from the restaurant's owner, Dave Calkins, who condemned the patron's behavior.
"Let me be clear, at Brew Belly, we will not tolerate this dangerous and irresponsible behavior in our restaurant, especially during a public health emergency," Calkins wrote.
"As a business owner it is my sacred duty to fiercely protect my dedicated crew and to serve our community courteously, and more importantly, safely," he added.
In an attempt to increase that safety, Brew Belly has refrained from allowing guests to dine inside its restaurant, even though county rules allow for 50% capacity during the current stage of reopening. Calkins added that while the decision would likely lose the restaurant money, it was made as a way to help "flatten the curve."
https://www.instagram.com/p/CDjq5vRBaob/?utm_source=ig_web_copy_link
"Our staff is greatful to be working during these alarming and uncertain times. Although, they are doing it knowing there is an elevated health risk, and are doing it for a fraction of their pre-COVID-19 earnings. Policing the community to wear a mask is not something we are comfortable with, nor experienced at, but we realize it is unfortunately the new normal," wrote Calkins.
He added that the customer had been arrested following the incident and was effectively "banned for life" from Brew Belly.
"We demand and deserve your consideration and compliance. Please be kind as we try to navigate our way through these crazy times," Calkins wrote.