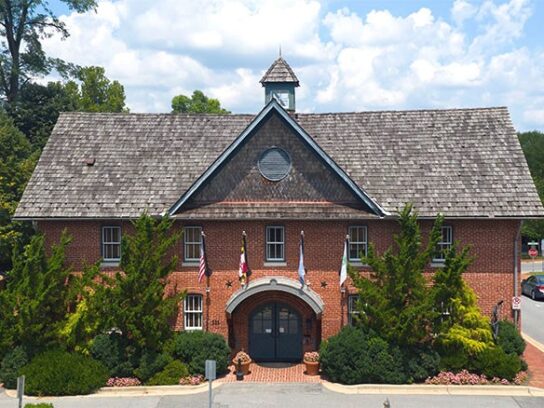 The Landless Theatre Company will continue presenting Camelot, with book and lyrics by Alan Jay Lerner and music by Frederick Loewe, at the Gaithersburg Arts Barn today until Sept. 25.
The first string of performances took place last week from Sept. 16 to Sept. 18.
Performances on Sept. 23 and Sept. 24 will begin at 8 p.m. while Sept. 25 performances will begin earlier at 2 p.m. on 311 Kent Square Road.
"Camelot follows an idealistic young King Arthur, who hopes to create a kingdom built on honor and dignity, embodied by his Knights of the Round Table. His ideals, however are tested when his lovely queen, Guinevere, falls in love with the young Knight, Lancelot, and the fate of the kingdom hangs in the balance," the Gaithersburg city webpage reads.
The event is recommended for anyone above the age of 12. Tickets are $24 for adults, $20 for students between the age of 15 and 21 and $15 for anyone 14 years or younger. Tickets can be purchased online here.
Those interested should be aware ticket sales will end two hours prior to the performance. Tickets can also be purchased in person at the Arts Barn box office.
Camelot, with book and lyrics by Alan Jay Lerner and music by Frederick Loewe, will be presented by the Landless Theatre Company today, Sept. 23-25 at the Gaithersburg Arts Barn. Learn more ➡️ https://t.co/c80lV23cXW. pic.twitter.com/MNMZt8CxON

— Montgomery County MD (@MontgomeryCoMD) September 23, 2022
Saw my wonderfully talented friend Rob and his husband perform in #Camelot at #Gaithersburg Arts Barn… pic.twitter.com/lv98AdueiF

— Janet_Nance (@Janet_nance108) September 18, 2022
Y'all come on out to @LandlessTheatre 's Camelot today at 2:00 at the Arts Barn in Gaithersburg. You'll be out by 4:00 in time for dinner, and I promise to make you laugh, and if you're lucky I'll interpolate a high C at the end of Take Me To The Fair. (Tickets @ box office) #sop

— Shaina Kuhn (@ShainaVKuhn) September 18, 2022
More information on the event can be found here.