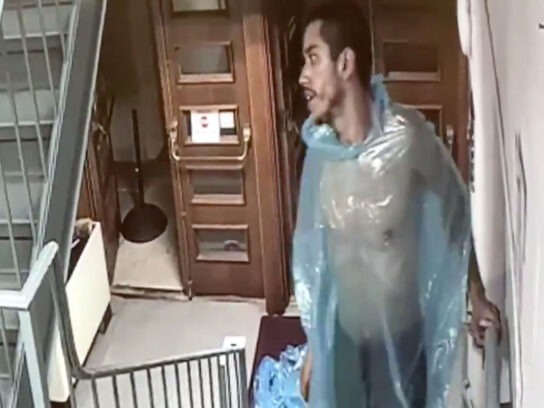 Montgomery County detectives released a surveillance video of a suspect believed to have burglarized a church in Chevy Chase.
The video shows a shirtless man eating packaged food and drinking bottled water taken from a donation box in the church.
According to police, the man broke into Chevy Chase Methodist Church, located at 7001 Connecticut Avenue, at around 11 p.m. on Wednesday, Oct. 2. He was on church grounds for approximately 45 minutes, police say.
Kirkland Reynolds, the pastor at Chevy Chase Methodist Church, sent an email to the church community on Oct. 3, calling the incident "a random and unfortunate incident." Reynolds said staff arrived at the church the morning after the break-in, found broken glass, and notified Montgomery County Police Department and the church's preschool team before school started.
Police say, "[T]he suspect is believed to have been in and on the grounds of the church, the suspect destroyed several items to include numerous glass windows, an exterior lamp, outdoor planters, and a glass sign."
He also stole a flag, ransacked a classroom, and moved boxes into a hallway, police say. In his email to the church community, Reynolds said the suspect also vandalized the church's memorial garden by breaking "every flower arrangement that was placed in memory of a loved one interred in the church columbarium."
"I grieve the harm committed in that sacred space," Reynolds said.
Police urge anyone who recognizes the suspect or who has information about the incident to call investigators at 240-773-6710. Anyone who wishes to report anonymous information can contact the Crime Solvers of Montgomery County at 1-866-411-8477.