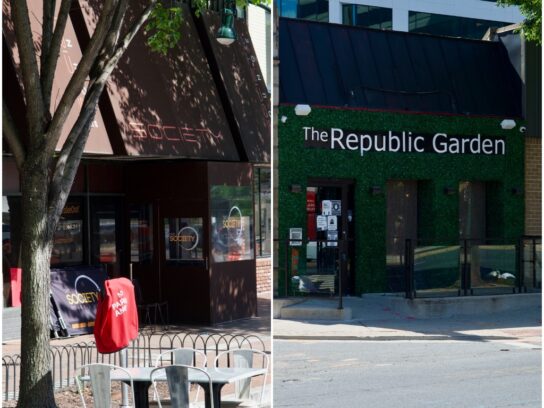 El condado de Montgomery anunció el martes en un comunicado que cerró el domingo dos restaurantes de Silver Spring por violar las restricciones de distanciamiento social establecidas para evitar la propagación del coronavirus.
Society Lounge y Republic Garden, ambos ubicados en Georgia Avenue, fueron cerrados por funcionarios de salud y se les "suspendió […] su licencia por no mantener un distanciamiento social adecuado". Para reabrir nuevamente, el condado dice que las dos empresas deben proporcionar al Departamento de Salud y Servicios Humanos un "plan escrito que detalle cómo se cumplirán los requisitos establecidos en la Orden Ejecutiva 082-20″.
Montgomery County announced Tuesday it closed two Silver Spring businesses that have violated coronavirus restrictions: the Society Lounge and the Republic Garden, both located on Georgia Avenue in Silver Spring.

Here's a look at signs posted on the doors of the businesses: pic.twitter.com/mTsDvBAOO6

— MyMCMedia (@mymcmedia) July 15, 2020
Además, el condado de Montgomery dice que emitió "una advertencia y una citación" al restaurante Ay! Jalisco el sábado, ubicado en Snouffer School Road en Gaithersburg, porque los empleados no llevaban cubre bocas o mascarillas. Si el restaurante continúa violando las medidas de coronavirus, se suspenderá su licencia de licor y se le multará con $500 dólares.
The Block, ubicado en la sección Pike & Rose de Rockville, el sábado también fue citado por inspectores y multado con $500 por "no mantener la política mínima de distancia física de seis pies". El condado dice que suspenderá la licencia de licor de The Block si continúan violando las restricciones de coronavirus.
En un mensaje en las redes sociales, un copropietario de The Block le dijo a MyMCMedia: "Nunca quisimos causar ningún daño, de verdad". El copropietario agregó:
Aunque tomamos todas las medidas necesarias para cumplir con las pautas de distanciamiento social, no estábamos preparados para la cantidad de negocios que desarrollaría nuestro bar en tan poco tiempo.

Para The Block, así como para los otros bares en el área, todos estamos aprendiendo y mejorando todos los días para encontrar soluciones más seguras para el distanciamiento social y el medio ambiente. Las pautas proporcionadas por el estado y el departamento de salud no detallan mucho la regulación, dejando que los propietarios la resuelvan.

En adelante, limitaremos la entrada de invitados y los pedidos en línea desde sus mesas mediante GoTab. Un servicio que permite a los clientes ordenar sin tener que levantarse e interactuar con nuestro personal u otros grupos a su alrededor ".
MyMCMedia contactó a Society Lounge, Republic Garden y ¡Ay! Jalisco, pero no tuvo noticias de los tres negocios al momento de la publicación.
https://www.instagram.com/p/CCpLO68F8xF/
El condado de Montgomery dice que, en las últimas semanas, sus embajadores de negocios han "visitado más de 1,900 negocios para brindar educación sobre los requisitos para cumplir con la reapertura".