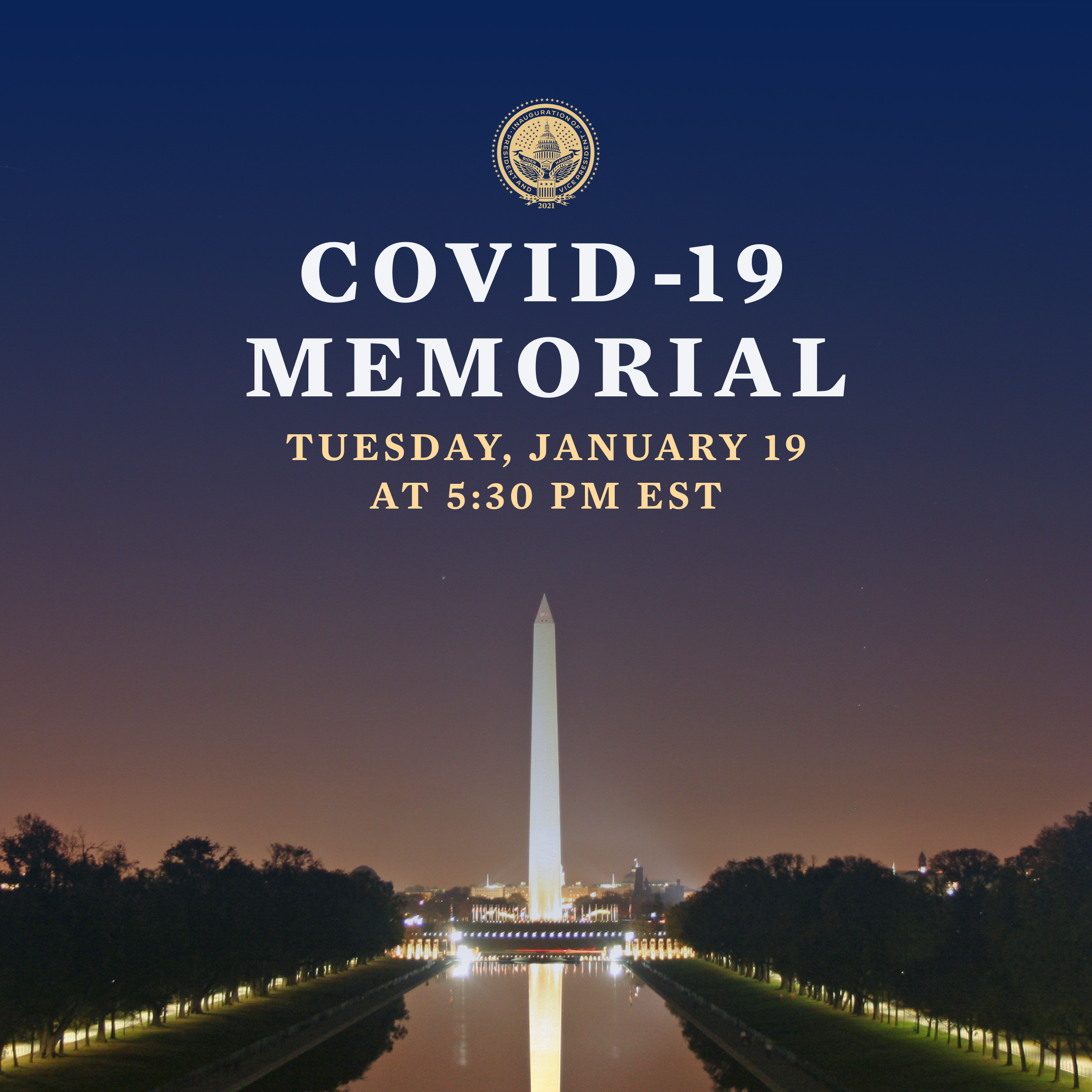 Cities of Gaithersburg and Rockville Join in National COVID Memorial
The cities of Gaithersburg and Rockville are joining in a memorial Tuesday to remember and honor lives lost to COVID-19 by illuminating their City Halls starting at 5:30 p.m.
The memorial is organized by the Presidential Inauguration Committee (PIC) that is encouraging cities and towns to join Washington, D.C. in illuminating buildings in amber light as a symbol of unity and remembrance. A Washington, D.C. ceremony will feature lighting around the Lincoln Memorial Reflecting Pool.
The ceremony may be watched below:
The ceremony in D.C. will be streamed BidenInaugural.org/watch and PIC's  YouTube, Facebook, and Twitter
Gaithersburg City Hall will be illuminated as part of the tribute. "Our sympathies are with the families and friends of those who have been taken from us too soon at the hands of this devastating pandemic," said Mayor Jud Ashman. "Our community is united in its grief, and we are also united in our efforts to offer support and assistance to all who are facing challenges as a result of COVID-19."
We are joining /w hundreds of cities across the country in a national COVID Memorial Tribute on Tues, Jan 19. City Hall will be illuminated in amber light starting at 5:30 p.m. as a symbol of unity and remembrance.
For more information visit: https://t.co/nBkRgMOJ8n pic.twitter.com/iyKebsz13G

— City of Gaithersburg (@GburgMD) January 15, 2021
Rockville will join cities and towns across the country at 5:30 pm tonight, illuminating City Hall to remember and honor lives lost to COVID-19. The nationwide memorial is being organized by the Presidential Inaugural Committee. https://t.co/7yiTjYJn4f pic.twitter.com/H6sUu36mth

— City of Rockville (@Rockville411) January 19, 2021
The Biden Inaugural committee is hosting a memorial to remember and honor the lives lost to COVID-19. Tuesday at 5:30 p.m., the committee invites Americans to come together for a moment of unity and remembrance.
In case you missed it this weekend, the Government House in Annapolis was lit up in pink to raise awareness for breast cancer.
Government House is the official residence of the governor and his family in Maryland.
On Oct. 1, Maryland Governor Larry Hogan issued a proclamation announcing October as Breast Cancer Awareness Month.
As part of Breast Cancer Awareness Month, Maryland officials are recommending that women be screened regularly for breast cancer. According to the American Cancer Society, breast cancer trails only skin cancers as the most common cancer among women in the United States. In 2015, about 4,730 Maryland women will be diagnosed with breast cancer and an estimated 810 will die of the disease.
"Through awareness, we can increase screening rates, improve health outcomes for Maryland women and, by extension, our communities as a whole," Hogan said.
Men with family histories of the disease are also urged to share that history with their health care providers to determine if screening is warranted.