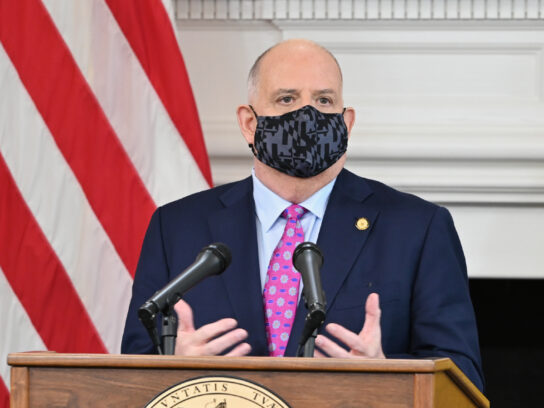 Gov. Larry Hogan previewed his proposed Fiscal Year 2022 recovery budget Tuesday, noting the full budget will be presented Wednesday.
Hogan said he's pleased with the budget, which is structurally balanced, without increasing taxes, despite the economic hardship brought by the coronavirus. Hogan said early in the pandemic, the state took action by budget reductions and freezing non-emergency spending.
Today I announced a 100% balanced FY 2022 economic recovery budget that fully funds our top priorities with no tax hikes, layoffs, or cuts to services.

Details: https://t.co/QHEhXWL2KC pic.twitter.com/ZNsDWmryPN

— Governor Larry Hogan (@GovLarryHogan) January 19, 2021
Hogan said the state's "top legislative priority" is the $1 billion RELIEF Act of 2021, which was announced Jan. 11. The relief act would provide tax and stimulus relief to Marylanders in need.
"My top economic priority is making sure that Marylanders can keep more of their hard-earned money in their pockets," Hogan said.
Hogan says his budget includes record funding for education. Here's a preview of the budget:
$7.5 billion for kindergarten through 12th grade education, which includes $151 million for targeted tutoring, $53 million to expand full-day Pre-K, $10 million for the BOOST program, $833 million for school construction.
$411 million for higher education projects, including funds for major projects at HBCUs and record community college funding.
Environmental funding, including full funding for Chesapeake Bay restoration efforts; full funding for Program Open Space; $43 million for renewable energy; and $14 million for energy efficiency.
$978 million for mental health services and substance abuse programs.
Funding for infrastructure.
Funding for preventing violent crimes and hate crimes.
Increased funding for local health departments.
We look forward to working together with the legislature in a bipartisan and collaborative fashion to enact a final budget. This recovery budget and the RELIEF Act of 2021 are far and away the most important things that the legislature must address right now.

— Governor Larry Hogan (@GovLarryHogan) January 19, 2021
"If you told me last spring when we faced the prospect of a near fiscal Armageddon that we would be able to introduce a budget t that provides $1 billion in immediate tax and stimulus relief for struggling families and small businesses that makes record investment in education, public health, and other key priorities, which is structurally balanced, without any tax increases, furloughs, or cuts to services, I would not have believed that it was possible, but that is exactly what we have been able to accomplish with this FY2022 budget.," Hogan said.