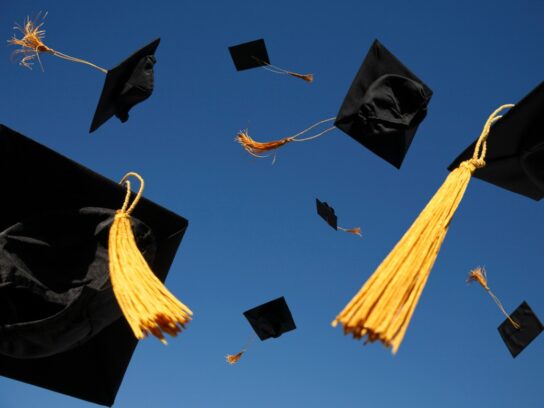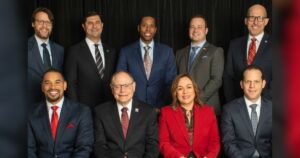 The Montgomery County Council voted unanimously Tuesday to limit school graduation ceremonies to 50% of venue capacity for outdoor ceremonies; capacity is limited to 25% for indoor ceremonies or 250 people, whichever is fewer people.
Read the regulation detailing new graduation guidance. 
Schools that want to have an indoor graduation must obtain a letter of approval, according to the regulation. For both indoor and outdoor ceremonies: no more than 10 people can be on-stage at one time and diplomas must be given out without any physical contact. Ceremonies can last two hours maximum, however the venue can open for an hour before and after the ceremony to avoid crowding at entrances and exits.
A record of everyone who attends a graduation must be kept for 30 days for contact tracing purposes, and schools must have a point of contact that attendees can notify if they test positive for COVID-19 within two weeks after the graduation. Upon being notified of a case, the point of contact must tell the county Department of Health and Human Services (DHHS) within one business day, the regulation says.
Audience members from different households must stay six feet apart at all times, according to the regulation. A masked speaker is required to stay at least 12 feet away from the audience and an unmasked speaker has to be at least 18 feet away.
Gathering in common areas either inside or outside of venues before or after ceremonies is prohibited. No group or staged photography or food and beverage service, including concessions, is allowed. However, the regulation states that if the venue allows it, guests can bring their own snacks/drinks to eat only while seated.
Signage detailing the COVID-19 requirements must be posted at venues.
Council Vice President Gabe Albornoz congratulated the Class of 2021. He said 2020 and 2021 graduates have made sacrifices and shown resilience.
"We know the sacrifices that these youth have made on behalf, frankly, of all of us to keep all of us safe," Albornoz said.
"Your resilience and your strength and your leadership has not gone unnoticed. And I know this has been painful, to say the least, but we stand with you and we will support you coming out of this and do everything that we can to support you."
The regulation goes into effect Tuesday at 5 p.m.
NEW: The Montgomery County Council votes to limit school graduations to 50% of venue capacity for outdoor ceremonies; 25% capacity for indoor graduations or 250 people, whichever is less. @mymcmedia

— Maryam Shahzad (@maryam_mcm) April 20, 2021
MORE: No more than 10 people can be on-stage at one time and the ceremony can last 2 hours max (indoor+outdoor).

Schools that want an indoor graduation must get a letter of approval + have a plan outlining how the school would meet requirements in the new regulation. @mymcmedia

— Maryam Shahzad (@maryam_mcm) April 20, 2021