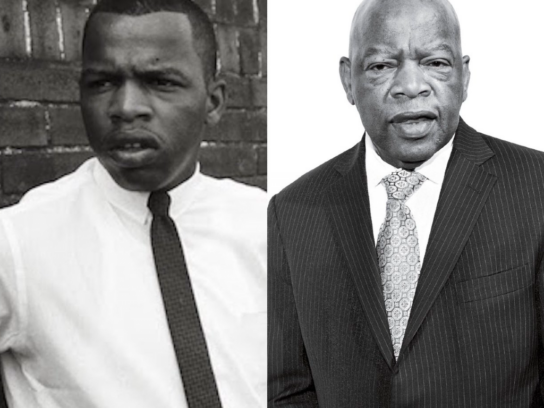 Representative John Lewis (D-Ga) died Friday, July 17 of pancreatic cancer leaving behind a powerful legacy as one of the game-changers in American Civil Rights history.
Lewis was one of the organizers of the 1963 March on Washington and spoke – at the age of 23 – to the huge crowd on the Mall shortly before Martin Luther King, Jr.'s iconic "I Have a Dream" speech. Lewis had his skull broken two years later on Bloody Sunday as he led marchers across the Edmund Pettus Bridge in Selma, Alabama.
He worked to end legalized racial segregation in the United States. In 1965, the Voting Right Act of 1965 was passed due in large part to the work of King, Lewis and other members of the Big Six (members of the Civl Rights movement.)
Lewis was called the "conscience of Congress" and was proud of getting into "good trouble" as he called his activism.
Local leaders in Montgomery County, including Council President Sidney Katz, expressed their sympathy and admiration after Lewis' death. They acknowledged his commitment to justice and equality.
"He was never afraid to call out injustice, speak truth to power and fight for the promise of our nation that all of us are created equal. We are a better country because of John Lewis. I will strive to do all I can to make Montgomery County live up to his ideals. May he Rest In Peace," said Katz in a Tweet.
Katz shared his personal memories of the Civil Rights leader with MyMCMedia:
Other county councilmembers also paid homage to Lewis on Twitter:
The conscience of the Congress, a man of God, a mentor, a brother and a champion for the oppressed has gone home. Rest well Congressman Lewis. Thank you for your example and sacrifice. We will try to be worthy of it. #JohnLewis #GoodTrouble #restinpeace #restinpower 🙏🏾✊🏾 pic.twitter.com/JVGzDfHst2

— Will Jawando (@willjawando) July 18, 2020
He was never afraid to call out injustice, speak truth to power & fight for the promise of our nation that all of us our created equal. We are a better country because of John Lewis. I will strive do all I can to make Montgomery County live up to his ideals. May he Rest In Peace. pic.twitter.com/cNQrjiHyZJ

— Sidney Katz (@MC_Council_Katz) July 18, 2020
.@RicePolitics Often quoted by The Honorable Congressman John Lewis "…Respect the Worth and the Dignity of Every Human Being…" – James Morris Lawson, Jr. #Goodtrouble @repjohnlewis #Congressman #GetInTheWay #Leadership pic.twitter.com/6T7OTyNIUf

— Craig Rice (@RicePolitics) July 18, 2020
"When you see something that is not right, not fair, not just, you have to speak up. You have to say something; you have to do something."

Thank you John Lewis for always speaking up and teaching all of us the power of humanity.#RIPJohnLewis #goodtrouble #RestInPower pic.twitter.com/AyiJXyo6aL

— Evan Glass (@EvanMGlass) July 18, 2020
To the greatest creator of good, necessary trouble: who saw wrong and sought to fix it; who witnessed what was broken and demanded we change it. May @repjohnlewis' memory be for a blessing and may we continue on his call to action for a more free, more fair and more just society. pic.twitter.com/pEhiC0JWW6

— Councilmember Andrew Friedson (@Andrew_Friedson) July 18, 2020
May he rest in power knowing that his example will guide a new generation of freedom fighters- He will be missed 🙏🏼 #Hero #Honorable #Icon https://t.co/AaPTssRDcL

— Nancy Navarro (@nancy_navarro) July 18, 2020
We have lost a giant, an icon, a true titan who fought for equal justice until his last breath. Thank you, Congressman Lewis for being our moral compass, our beacon of hope to achieve a more perfect union for all. Our nation will forever be indebted to you, we will never give up. pic.twitter.com/9d2WENQjwA

— Councilmember Gabe Albornoz (@albornoz_gabe) July 18, 2020
America has lost a true icon. John Lewis embodied what it meant to be a student activist. He took his passsion for justice from the streets of the south to Atlanta's City Council and then to the US Congress. He taught us to never give up the fight for civil and human rights.

— Marc Elrich (@Marc_Elrich) July 18, 2020
See related posts below:
County, State Officials Mourn The Passing of Civil Rights Icon John Lewis