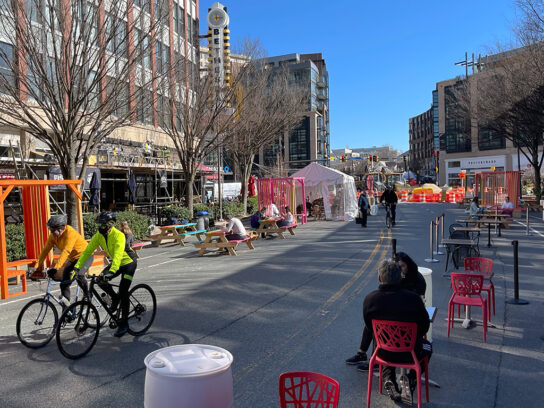 The Montgomery County Council introduced a resolution Thursday showing support for maintaining Open and Shared Streets programs.
The county's Department of Transportation (DOT) began the Shared Streets program when the COVID-19 pandemic started, according to the resolution. It closed some roads to cars to allow outdoor activities like walking and dining. Areas like the Bethesda Streetery and Newell Street in Silver Spring offer outdoor in-street seating for dining. Recently in April, the City of Rockville closed Gibbs Street to open a streetery in Rockville Town Square, in partnership with Federal Realty.
Montgomery Parks began the Open Parkways program, which prohibits cars on portions of streets like Beach Drive and Sligo Creek Parkway on weekends so pedestrians and bicyclists can use them.
"Vehicle-free streets have proven wildly popular and demonstrated we CAN rethink how public spaces are used to best serve the public," Councilmember Andrew Friedson, who drafted the resolution, wrote on Twitter.
"The COVID-19 pandemic has provided jurisdictions around the world a chance to rethink how public spaces are best used and how they may be repurposed to better promote community health and vibrancy," the resolution reads.
All councilmembers support the resolution.
Check out the scene at the Bethesda Streetery on a recent evening (photo from @janeplyons). We should take this community-building success inspired by the pandemic and work to make it part of our "new normal."

Details: https://t.co/bqgb0LwKEk pic.twitter.com/qf3oi2WblK

— Councilmember Andrew Friedson (@Andrew_Friedson) May 26, 2021