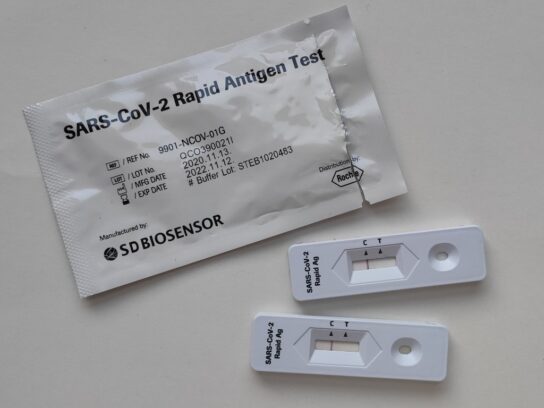 Montgomery County officials are developing a plan to offer rapid COVID-19 tests through public libraries. 
"Ultimately, we are working with our library partners on a distribution system," County Public Health Emergency Preparedness Manager Sean O'Donnell said during a virtual media briefing Wednesday. He emphasized that the tests are not yet available at libraries.
Also, the county will develop an online portal for residents to report their results. O'Donnell said officials will provide more information when available. 
Last month, the state health department offered rapid at-home test kits to groups with an increased risk of exposure or decreased access to testing.
According to information shared Wednesday, the County Department of Health and Human Services (DHHS) distributed about 20,000 BinaxNOW rapid tests from the state health department and county orders placed with the company Abbott, which include clinically-administered tests and take-home tests. The state health department gives DHHS about 2,500-5,000 Take Home tests per week, which have been given out through county partners working with groups like populations served at community hubs and food assistance recipients. 
The county has additionally ordered about 1,144,000 rapid tests from vendors. 392,000 will arrive this week, according to officials. Montgomery County Public Schools received 100,000 tests on Wednesday.