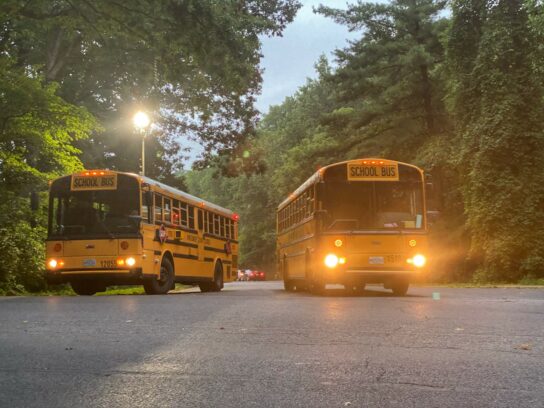 Public officials backtracked last week on plans to house a new county bus depot along Seven Locks Road in Rockville during a community forum on the proposed development. 
Montgomery County Chief Administrative Officer Rich Madaleno opened Thursday's forum with a welcome announcement for more than 100 in-person and virtual attendees: the county government would not support any plans for a bus depot along the Seven Locks Road site.
"That's not part of the conversation. That is dead as long as [Marc Elrich] is county executive," Madaleno said. "I don't think we ever thought it was a good site for a bus depot." 
The Rockville mayor and city council had voiced vehement opposition to the planned bus depot site since its announcement – saying the new development would cause increased traffic and air pollution near residential areas. The development would have been adjacent to eight Rockville neighborhoods. 
The depot would have allowed Montgomery County Public Schools (MCPS) to relocate its bus depot from Derwood. The site also would have housed some county Ride On buses. 
The new bus depot would have shared its development space with a planned county restoration center – which county officials say would provide care for people experiencing behavioral health crises. 
Despite the small victory for community members in opposition to the new bus depot, the county stood firm on its controversial plan to build the new restoration center along 25.8-acres of the Seven Locks Road site. 
The restoration center is planned for the site adjacent to the Seven Locks Criminal Justice Complex. In recent months, Rockville officials have voiced concerns over the restoration center's proximity to the jail and residential areas.
The proposed restoration center elicited roughly three hours of debate at Thursday's forum, where community members reiterated their concerns for public safety near the center.