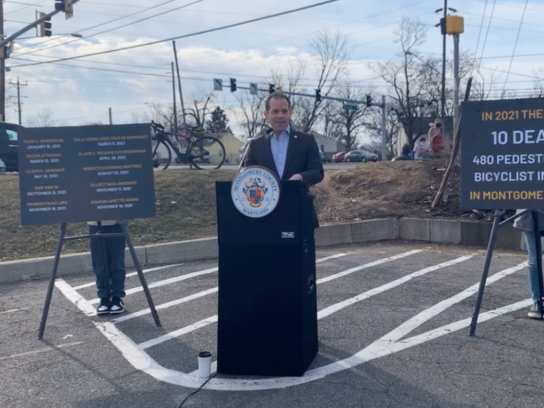 Montgomery County Council Vice President Evan Glass held a rally event on Saturday highlighting the importance of "Vision Zero" programs to reduce roadway injuries and fatalities. The event was held just blocks away from the spot where Luz Marina Roa was struck and killed by a hit and run driver on Jan. 17.

Montgomery County weighs in as one of the first county governments in the U.S. to initiate a Vision Zero plan. The county's initiative focuses on "eliminating serious and fatal collisions on county roads for drivers, passengers, pedestrians and bicyclists by 2030," a county press release said. 
In 2021, 11 pedestrians were killed and 480 people were hit by vehicles while walking or riding their bicycles in the county, Glass said. 
Glass was joined by activists and local leaders who continue to fight for pedestrian and street safety in Montgomery County. 
Rachel Grossman, an activist for pedestrian safety,  lost her father when he attempted to cross the street to attend synagogue in 2016. Four years later, her mom was killed about two blocks from where her father was killed. She was on her way home from work. 
Chair Jennifer Homendy from the National Transportation Safety Board was the keynote speaker of the event. She emphasized the alarming numbers of lives lost in roadway fatalities and said she will continue to push for safety improvements. 
"For too long we've considered pedestrian and cyclist traffic injuries as inevitable side effects of modern life," Glass, a member of the Transportation and Environment Committee said. "But the reality is that we can and must prevent these tragedies by taking a proactive approach to reimagining our roads so that they work for all users."
The rally took place at the Veirs Mill Road corridor, where approximately 43,000 cars commute everyday. This corridor is also home to mostly immigrant Latino communities and businesses that have experienced an alarming increase in pedestrian-related incidents.