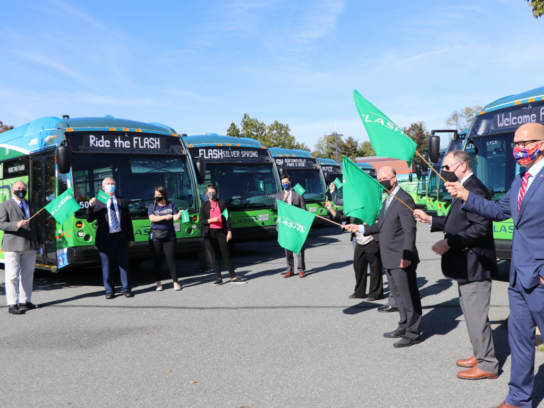 Montgomery County Department of Transportation officially debuted its Flash bus rapid transit system Wednesday, the first of its kind in the state of Maryland.
MCDOT's Flash buses operate on U.S. Route 29 from Burtonsville to Silver Spring. Buses arrive at stations every 7.5 minutes during rush hour. There's 80 seat capacity aboard the 62 feet long buses, which are also wheelchair and scooter accessible. Inside of each bus are bike racks, and there's also free wifi and USB charging ports.
Several Montgomery County leaders celebrated the transit system's launch at a Flash bus station outside of East County Community Center in Silver Spring.
"This project helps us achieve our equity goals, our climate goals, and our Vision Zero pedestrian goals," County Council Vice President Tom Hucker said.
County Executive Marc Elrich and County Council President Sidney Katz expect the new transit system to contribute to job growth in the community.
"We really, I think, changed the way people are going to look at job accessibility here," Elrich said.
https://www.instagram.com/p/CGVROXXAQWN/
Related Post: