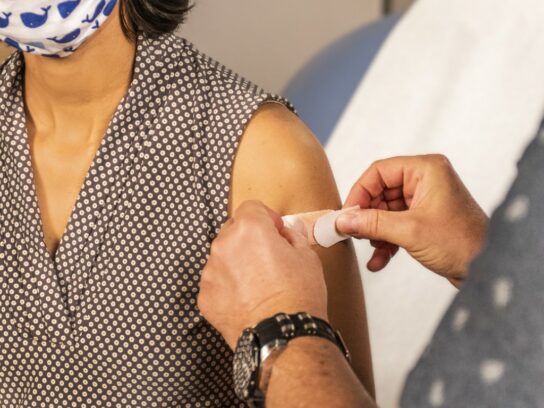 Those frustrating days of repeated calling and internet clicking for a COVID-19 vaccination appointment are winding down now that more places are offering the shots. And many are welcoming walk-ins without appointments.
Click here for a list of vaccination clinics throughout the state. This includes mass vaccination sites throughout Maryland, Montgomery County sites, pharmacies and hospitals.
This week, all Marylanders age 16 and older can be vaccinated at the Germantown campus of Montgomery College. First dose appointments of the Pfizer vaccine are available Thursday and Friday. Walk ins without appointments are welcome those days between 10 a.m. and 2 p.m.
Moderna vaccines are available for people 18 years and older between today and Sunday, May 9 at the Silver Spring Civic Building, 1 Veterans Plaza, 8525 Fenton Street. Call for an appointment at  240-777-2982 or go to the county's COVID-19 portal to sign up.
U.S. Rep. David Trone, who represents Maryland's 6th Congressional District, sent out a detailed list of places, times and links to ease the process of getting vaccinated in a recent newsletter. This list includes CVS and Walgreens, Giant and Safeway and Sam's Club.
As of May 4, about 54% of Montgomery County residents had received their first dose and 38% are fully vaccinated, according to the county. Statewide, five million people have been vaccinated. According to the Centers for Disease Control and Preventions, 62.5% of Marylanders who are at least 18 years old have been vaccinated.
After pushing to bring a vax clinic to the SS Civic Bldg, it was great to visit w/ @fema staff who run it.

No need to wait! Make an appointment online or walk in!
There was no line when I was there.
Appointments: https://t.co/alJi2aMNDj pic.twitter.com/fDDi9R3VXm

— Tom Hucker (he/him) (@tomhucker) May 5, 2021
Today I announced that eligible Marylanders can get vaccinated without an appointment at any of the state's 13 mass vaccination sites. The sooner we get more Marylanders vaccinated, the sooner we can put this pandemic behind us once and for all.

Details: https://t.co/cTSOEwOb3Z

— Governor Larry Hogan (@GovLarryHogan) May 5, 2021
All Americans age 16+ can visit https://t.co/CqDZMe2UcK or text your ZIP code to GETVAX (438829) to find and book a nearby #COVID19 vaccination appointment.

— Rep. John Sarbanes (@RepSarbanes) May 4, 2021