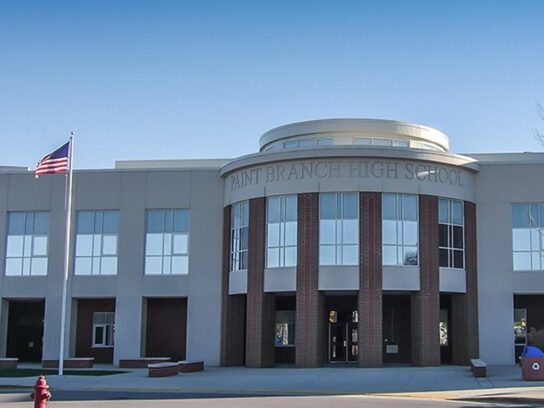 Montgomery County Public Schools announced over the weekend there was an outbreak of positive coronavirus cases at Burtonville's Paint Branch High School.
One staff member and 16 students tested positive between Dec. 3 and Dec. 6. The affected individuals were last on school grounds between Dec. 3 and Dec. 4, according to a letter posted to the MCPS website.
All individuals who tested positive had received their second vaccine dose more than six months ago, according to Earl Stoddard, Assistant Chief Administrative Officer of Montgomery County. The students have not yet been able to receive a booster shot as the CDC has only recommended boosters for those 18 years or older.
Paint Branch Athletics announced upcoming Boys JV and Varsity basketball games against Springbrook High School in Colesville have been postponed, with the new dates to be announced. Practices have also been cancelled until further notice.

Boys JV and Varsity Basketball games vs Springbrook on 12/7/21 have been postponed. Make up TBA. https://t.co/oomT9ECyal

— PB Athletics (@pbhs_sports) December 6, 2021
The school will also shutter its early childhood development program for preschoolers for ten days, and plan to reopen Dec. 17.
MCPS Chief of Staff James D'Andrea said in a virtual meeting Tuesday the school is working diligently with the Department of Health and Human Services in Montgomery County to investigate the situation and begin contact tracing. "When we have a situation like this where a number of cases arise in a very short period of time, it's critical for us to partner with DHHS to investigate what exactly is occurring."
Although Councilmember Craig Rice did not identify Paint Branch High School as the institution specifically affected, he pressed D'Andrea and Director of DHHS Dr. Raymond Crowel on next steps. D'Andrea said MCPS and DHHS are working on pushing messaging about getting tested regularly, especially in light of holiday travel plans, to students and parents prior to winter break.
"My constant messaging with folks is, get vaccinated, get your boosters, but get tested," Crowel said. "Keep testing, because testing is how we trace the disease in the county."
Paint Branch High School will be hosting a vaccination clinic on campus Saturday, from 10 a.m. to 6 p.m., where students can receive a booster or second dose. A registration link will be posted prior to the event, according to the school, as walk-ins may not be able to be accommodated due to high demand.
Students are also encouraged to participate in MCPS' "Say Yes to the Test" program, where students can receive a COVID-19 test every Wednesday morning at school. Testing is available at Paint Branch High School every Wednesday, 10 a.m. to 11:30 a.m., in room 1024.
D'Andrea noted the importance of the implemented vaccine requirement for winter sports athletes, a mandate that was not in place for fall sports. "It's very critical," D'Andrea said.
Crowel said DHHS is taking an additional step in asking the state to analyze the student samples of those who tested positive to identify the presence of any variant strain that might have caused the vaccine breakthrough.
The investigation regarding the source of transmission and any presence of omicron or another variant is underway. "At the end of the day, our top priority is making sure our schools are safe for all students and staff," D'Andrea said.
Individuals who were known to have close contact with those who tested positive have been instructed to quarantine and are being monitored for symptoms, per CDC, DHHS, and MCPS guidelines. Montgomery County Public Schools and Montgomery County Government ask to visit their websites for additional information on COVID-19 resources, including free COVID-19 testing and COVID-19 vaccination sites.