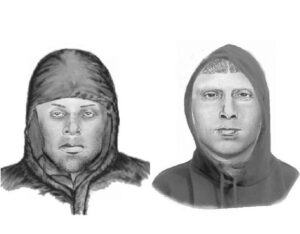 Detectives from the 5th District of Montgomery County Department of Police released composite sketches of two suspects from an armed robbery that took place in Germantown. The detectives are asking for assistance in identifying the suspects. 
On Feb. 5, a 43-year-old man, was walking near 19600 block Crystal Rock Drive when the two suspects approached him.
One of the suspects displayed a gun and demanded the victim surrender his property. The suspect with a gun then threatened to kill the victim. After obtaining the victim's wallet, both suspects fled on foot. 
The suspect with a gun is described as an African-American man between 20 to 25 years old. He has a lighter complexion, facial hair, short, cropped hair and is 6 feet, 1 inch tall. 
The second suspect is a Hispanic man with black curly hair. He is 5 feet, 6 inches tall and weighs about 190 pounds. 
Detectives are asking anyone with information about this robbery or the suspects' identities to call the 5th District Investigative Section at 240-773-6237.  Those who wish to remain anonymous may call Crime Solvers of Montgomery County toll-free at 1-866-411-TIPS (8477). 
Crime Solvers will pay a cash reward of up to $10,000 for information that leads to an arrest in this case.