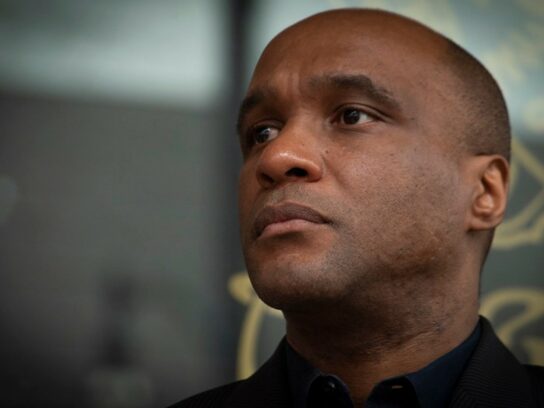 Former Montgomery County Health Officer Dr. Travis Gayles received the AMA Award for Outstanding Government Service for his leadership during the COVID-19 pandemic.
"As the top public health official in Montgomery County during the COVID-19 pandemic, Dr. Gayles was tasked with leading some of the most challenging on-the-ground efforts of our time," said AMA Board Chair Dr. Bobby Mukkamala in a news release.
"With information and data scant and with a clear need for leadership and consistent messaging, local officials like Dr. Gayles were absolutely critical during the earliest days of the pandemic. Dr. Gayles is a steadfast advocate for science- and data-driven solutions, and officials at the Maryland State Medical Society (MedChi) and the Montgomery County Medical Society credit him and his leadership with saving lives and lessening the local impact of the virus," Mukkamala said.
Gayles was named the county's health officer in September of 2017. He oversaw all federal, state and locally funded public health services and focused on programs to fight diabetes, HIV, bullying, violence and medical issues of concern to people of color.
When accepting the award, Gayles thanked all the people he worked with in the county and the residents who "invited me in to their homes to provide the best guidance we could to keep them safe."
Elrich congratulated Gayles on the award, noting, "Your unwavering leadership enabled us to make decisions that saved lives." He tweeted that the county "owes you a debt of gratitude."
During his tenure, Gayles received hate and racist-filled emails from those who disagreed with his policies. Since his departure, two finalists turned down the job out of concern for the nasty political climate.
Council President Gabe Albornoz earlier noted, "I've recently learned that a second finalist for the public health officer position in Montgomery County has turned the job down because of fear and concern over the rhetoric, over the attacks," he said during a meeting with the press. This is happening nationally, and "It's a sad state of affairs," he said.
Gayles resigned in September of 2021 to become chief health officer for San Francisco-based Hazel Health. He received his medical degree from the University of Illinois, Urbana-Champaign, and held previous faculty appointments at NYU, Johns Hopkins University, and the University of Maryland.
Congrats Dr. Travis Gayles, for receiving @AmerMedicalAssn Outstanding Government Service Award for your work during the pandemic. Your unwavering leadership enabled us to make decisions that saved lives. @MontgomeryCoMD owes you a debt of gratitude. https://t.co/gH7iDk66g6

— County Exec Marc Elrich (@MontCoExec) March 11, 2022
Related Post
Throughout Pandemic, Gayles was the Face of Montgomery County's Health