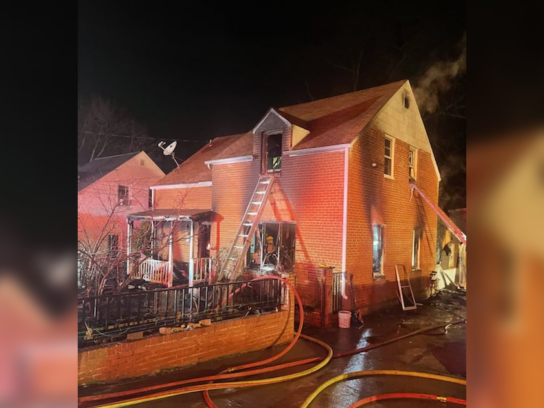 In the early hours of Monday and with temperatures in the low 30s, a fire in Wheaton left four residents displaced and took the life of the family dog. 
More than 60 firefighters from Montgomery County and Fire Rescue Service (MCFRS) responded to the residence located in the 2600 block of Harris Avenue. 
Update (initial dispatch ~230a) 2600blk Harris Av, Wheaton, house fire, heavy fire upon arrival, fire extinguished, 4 occupants got out, family pet dog did not survive (located on 2nd floor), no injuries, ~65 FFs on scene https://t.co/QZFacy60xD pic.twitter.com/lSgn3o1YVw

— Pete Piringer (@mcfrsPIO) January 24, 2022
The fire began at about 2:30 a.m. and the four occupants inside the home were able to evacuate without any "obvious" injuries, according to MCFRS Chief Spokesperson Pete Piringer.  
While the exact cause of the fire is unknown due to the heavy damage, fire investigators believe the area of origin was an apartment addition located in the back of the home.
Update (~230a) 2609 Harris Ave. House fire; Cause, undetermined; Area of Origin, addition/apartment (off kitchen), @mcfrs Fire Investigators narrowed origin to a small refrigerator, TV, space heater (air/fan type) & possibly other items all plugged in; Damage >$275K; a dog died pic.twitter.com/aAwktNmK01

— Pete Piringer (@mcfrsPIO) January 24, 2022
At the time of the fire, Piringer noted that there weren't any working smoke alarms inside the Wheaton residence. The damage to the home is estimated at more than $275,000.  
Firefighters are expected to return to the Wheaton Crest/Hills neighborhood later this afternoon. This is part of the 'After-the-Fire' initiative that aims to discuss fire safety and fire prevention.