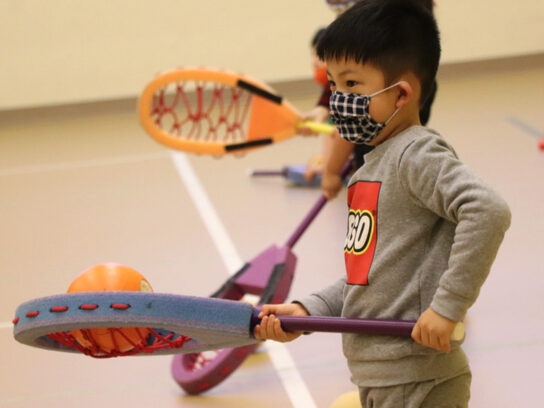 It's been a challenging year to stay fit, but hope is on the horizon as Montgomery County Department of Recreation is gradually reopening its community centers.
So far, eight of the county's 21 community centers have reopened: Bauer Drive Recreation Center in Rockville, Nancy H. Dacek North Potomac Community Recreation Center, Plum Gar Recreation Center in Germantown, Damascus Community Recreation Center, Jane E. Lawton Recreation Center in Chevy Chase, Potomac Community Recreation Center, Marilyn J. Praisner Community Recreation Center in Burtonsville, and White Oak Community Recreation Center.
MyMCM stopped by the North Potomac Recreation Center to see what activities are available to residents. During the visit, we observed Coach Doug's youth sports class.
The class, like all activities at the recreation centers adhered to CDC guidelines, requiring mask-wearing and distancing. During the class, nine children under the age of nine practiced ball games and sports including lacrosse and hockey.
Since Feb. 16, the Recreation Department started offering a number of other in-person fitness classes for youth and adults, which people can sign up for through the Active Montgomery website.
After a year of only offering virtual classes, Jewell Lyons, a facilities manager for Montgomery County Recreation, said children are always excited to get out of the house and socialize through the small group classes. "It's a great thing that we're doing here, giving parents and the youth an opportunity to participate in physical activity because they've been at home for a long time," Lyons said.
.@MoCoRec is now offering classes for children again. @mymcmedia is getting a look at Coach Doug's Fit class at the North Potomac Community Recreation Center. There's nine children in today's class, all having fun and wearing masks. Here's a look at lacrosse practice! 🥍 pic.twitter.com/60tHZ11Clp

— Deirdre Byrne (@DeirdreByrneMCM) March 16, 2021
In addition to resuming in-person classes, in-person camps are also making a comeback this summer (last year, the Recreation Department only offered virtual camps). Montgomery County opened up its camp registration on March 15.
Ingrid Bean, a supervisor for the Recreation Department, said the camps will be different his year to comply with county health regulations. The camps will be smaller, more will be outdoors, and they'll offer specialized programs for campers.
We're gearing up #SummerCamps and we're playing it safe. Due to social distancing requirements, #MoCoRec will not have companions or teen volunteers for Summer 2021 camps. Visit https://t.co/bKXi3j9l9i for info. #summertime pic.twitter.com/N40aupJpQQ

— MoCo Rec (@MoCoRec) March 22, 2021
In addition to classes and camps, county residents can also purchase a Fit N Play. They can use the Fit N Play pass to schedule times at the open recreation centers to use the gym, or play Badminton, pickleball or table tennis. The equipment is sanitized frequently and only two people are allowed in the gym at a time for 45 minute appointments.
MyMCM spoke to Leonard and Judy Starling, who have used the gym at the North Potomac Recreation Center regularly since the facility reopened.
"You couldn't afford to have something like this in your basement or in your home and this is really a nice setup," Leonard Starling said.
Whether you are looking forward to working out in our fitness room, enjoying family fitness together or joining a class, we have something for you. Several of our centers are offering fitness opportunities in a safe, socially distant environment. https://t.co/YBuFVzefIl #RecFit pic.twitter.com/cCh6AuuePW

— MoCo Rec (@MoCoRec) March 17, 2021
Judy Starling was glad she could use the bike and weight equipment. "It's just good to be back and exercising other than just walking around outside," she said.
Ashleigh Jones, a recreation coordinator for North Potomac Recreation Center, said the Recreation Department will make announcements when more of its centers reopen.
"We would love to be able to open up the doors but we got to be safe and we got to do it safely," Jones said.