El martes fue la última reunión para los concejales Tom Hucker (D-Distrito 5), Nancy Navarro (D-Distrito 4), Craig Rice (D-Distrito 2) y Hans Riemer (D-At-large) que están completando su mandato.
Today was the final meeting of the 19th Montgomery County Council. We thank Councilmembers Hucker, Navarro, Rice & Riemer for their years of service on behalf of the more than one million residents of Montgomery County. pic.twitter.com/l4rWybBp0f

— Montgomery Council (@MoCoCouncilMD) November 29, 2022
La Concejal Nancy Navarro se despidió de su comunidad hispana en español dando gracias por su apoyo. Navarro trabajó en el Concejo durante 13 años, luego de servir en la Junta de Educación del condado.
Concejal @CM_NancyNavarro se despide de la comunidad latina en su última reunión del @MoCoCouncilMD tras 13 años de servicio. @mymcmedia pic.twitter.com/ZbLchby2xS

— Andrea Sarralde (@asarralde) November 30, 2022
Después de las audiencias públicas del martes, el presidente del Concejo Gabe Albornoz presentó un emotivo video que muestra el legado de los cuatro concejales salientes, entregó obsequios especiales y proclamaciones.
Farewell celebration at the Council. President @GabeAlbornoz1 presents gifts to the four councilmembers last term. @mymcmedia pic.twitter.com/70bTGSVsKt

— Andrea Sarralde (@asarralde) November 29, 2022
The 20th County Council will be sworn on Dec. 5 at 11 a.m. at the Strathmore Music Center in North Bethesda.
---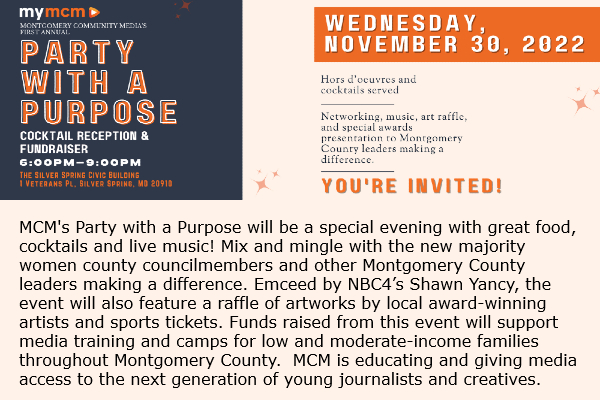 ---