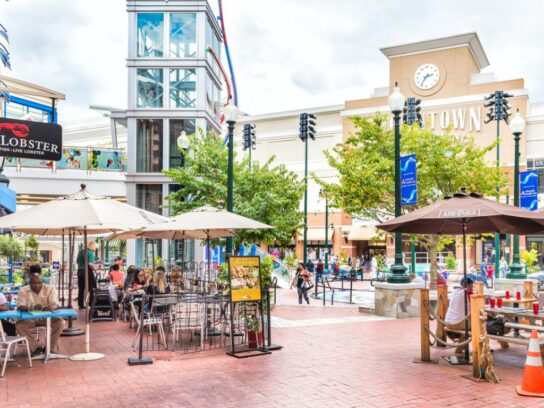 El Ejecutivo del Condado de Montgomery Marc Elrich anunció el miércoles sobre nuevas restricciones con el fin de frenar el aumento de los casos COVID-19 en el condado y en toda la región de Washington, según un comunicado de la oficina del Ejecutivo.
Las restricciones comenzarán el martes 15 de diciembre a las 5:00 p.m.
La nueva Orden Ejecutiva 139-20 restringirá el servicio de comida al interior de los restaurantes y sólo se permitirá servir al aire libre. Los servicios de entrega, recogida y a través de la ventanilla podrán continuar. La orden también limita las reuniones deportivas en interiores a un máximo de 10 personas en total. La capacidad máxima de los establecimientos comerciales se ha cambiado a una persona por cada 200 pies cuadrados de espacio comercial, sin exceder un máximo de 150 personas, según la Orden.
La Orden Ejecutiva ha sido enviada al Concejo del Condado para su revisión. El Concejo puede aprobar o desaprobar la orden, pero no puede cambiarla.
It is imperative that we take action now to slow the spread of #COVID19. We cannot wait for our hospitals to be overflowing. This was a difficult decision, and I know it is hard on everyone. I encourage you to remain steadfast. https://t.co/hDO6jI6yOt https://t.co/FTrwjUUVao

— County Exec Marc Elrich (@MontCoExec) December 10, 2020
"Hemos estado experimentando semanas con nuestros casos diarios aumentando dramáticamente", dijo Elrich. "Nuestros casos por cada 100.000 están ahora en 41, y el 78 por ciento de nuestras camas de hospitales están llenas. Todos los datos y tendencias indican que nos dirigimos hacia tiempos más difíciles y es imperativo que tomemos medidas ahora. No podemos esperar a que nuestros hospitales estén saturados. Fue una decisión difícil, y sé que es difícil para nuestros negocios. Aliento a todos a apoyar a nuestras empresas locales. Debemos tomar medidas para frenar la propagación de este virus.", añadió en el comunicado.
El Dr. Travis Gayles, Oficial de Salud del Condado, dijo: "Actualmente estamos viendo un número sin precedentes de nuevos casos diarios de COVID-19 y todos necesitan entender la gravedad de este asunto y los impactos negativos que puede tener. Es imperativo que cada uno de nosotros que vivimos en el Condado de Montgomery hagamos todo lo posible para frenar la propagación de este virus. Estamos viendo una transmisión comunitaria generalizada y todos necesitaremos sacrificar aspectos de nuestras vidas para controlarlo", dice el comunicado.