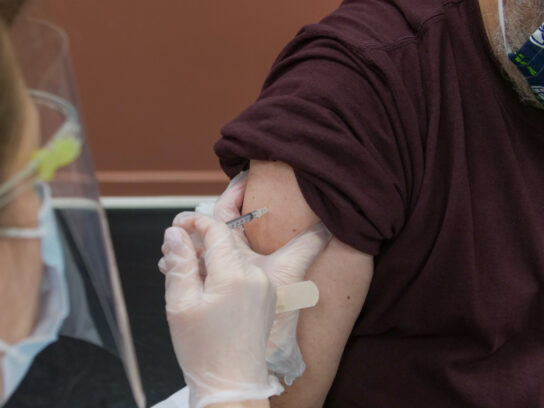 Las clínicas de vacunación operadas por el Departamento de Salud y Servicios Humanos del Condado de Montgomery ya comenzaron a ofrecer vacunas de COVID-19 a residentes de 65 a 74 años de edad y trabajadores esenciales, según un comunicado.
Los trabajadores esenciales en este grupo de prioridad incluyen a trabajadores de tránsito, maestros, trabajadores de cuidado infantil y personas con discapacidades de desarrollo.
En las últimas semanas, el condado dijo que más de 165,000 residentes del condado de Montgomery han recibido su primera dosis de la vacuna de COVID-19 y más de 82,000 residentes han sido completamente vacunados. El Departamento de Salud del Condado recibe un promedio de 5,000 dosis por semana.
🆕Montgomery County begins vaccinating essential worker groups and residents 65 to 74 years old.
➡️Learn more: https://t.co/y7qMHtt3qJ. pic.twitter.com/b0hfmpRQpA

— Montgomery Council (@MoCoCouncilMD) March 4, 2021
Mientras que el condado expande la vacunación de grupos adicionales, continuarán localizando a los residentes de 75 años o más que no han sido vacunados a través de llamadas telefónicas, mensajes de texto y correos electrónicos.
Los residentes deben registrarse con anticipación en el sitio web de la vacuna COVID-19 del condado para obtener una vacuna. A medida que más grupos sean elegibles, los residentes recibirán un enlace por correo electrónico para programar su cita. Se puede encontrar información detallada sobre los diferentes grupos prioritarios aquí.