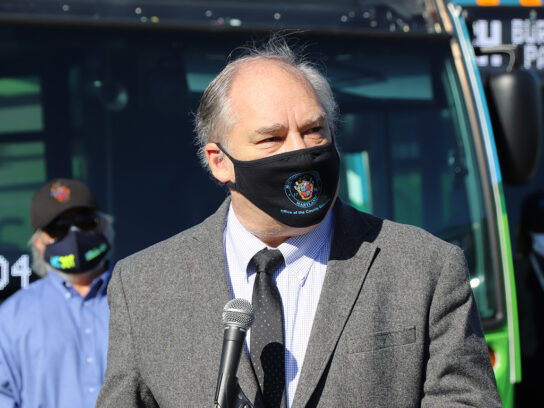 Montgomery County Executive Marc Elrich said he breathed a sigh of relief when he heard Tuesday's jury verdict for former Minneapolis Police Officer Derek Chauvin; he was found guilty for the murder of George Floyd.
"I think that verdict probably spared this country a lot of pain," Elrich said during a media briefing Wednesday. "A lot of people were in pain anyway."
Chauvin was found guilty on all three of his charges: second-degree murder, third-degree murder and second-degree manslaughter. Chauvin was convicted for killing Floyd, a Black man, after holding his knee on Floyd's neck on May 25, 2020. According to a statement of probable cause filed in a Minnesota District Court, Chauvin held his knee on Floyd's neck for almost nine minutes, including three minutes after Floyd became unresponsive. Floyd was accused of using a counterfeit $20 bill at a grocery store, which prompted the call to police. Witness footage of the killing sparked international outrage and calls for racial justice.
Elrich said the verdict is justice for Chauvin, but that there will never be justice for Floyd or other victims who were killed by police.
"George Floyd was not some sudden aberration," Elrich said. "We're talking about decades and decades of abusive people and the excessive use of force against, particularly, the Black community. So it's not justice for them, but hopefully it's a beginning of a reckoning and that the ability of prosecutors and jurors to do the right thing in the case will encourage other people to stand up and do the right thing."
Elrich said Montgomery County is on a path to police reform.
"And we are going to continue on that road until we're finished." He said the county is looking at hiring policies, recruitment, training and expectations for officers on-the-job. Elrich hoped the guilty verdict means Montgomery County can get on to making changes to ensure similar events do not continue.
"And I think for all of us who watch the news, that's been repeated several times this week already. So, this has got to come to and end and we need to get to that work," he said.
The same day as Chauvin's verdict, Columbus, Ohio Police shot and killed Ma'Khia Bryant, 16, after she ran at two people holding what looks like a knife, according to body camera footage. News of the shooting sparked protests in Columbus Tuesday evening.