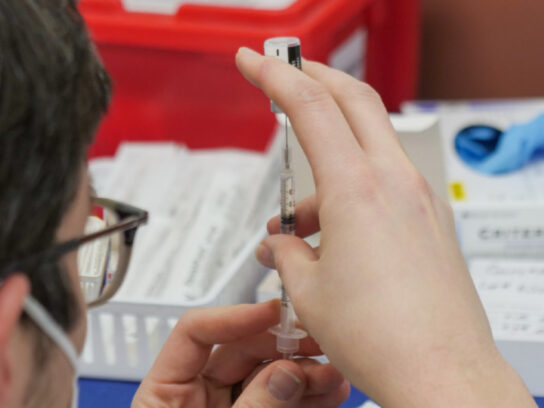 County leaders say Pfizer vaccine doses will help make up for the loss of the single-dose Johnson & Johnson (J&J) vaccine. Following recommendations from the Centers for Disease Control and Prevention (CDC) and the Food and Drug Administration (FDA) on Tuesday, Montgomery County paused the use of the J&J vaccine after six nationwide recipients developed rare episodes involving blood clots.
"We were all looking forward to those vaccines adding to the total supply of vaccines so we could get through our populations faster. Pfizer is helping make up for the loss of doses, " said Montgomery County Executive Marc Elrich during his weekly virtual media briefing on Thursday.
MyMCM got more details on what this means for the local vaccination process and what plans the county has for the remaining J&J doses.
Dr. Anthony Fauci says the pause on the J&J vaccine is not permanent. National health officials will take more time to analyze data before moving forward.
In the meantime, the county urges eligible residents to get vaccinated as allotted Moderna and Pfizer vaccine doses from the state become available.
Right now: Montgomery County Executive Marc Elrich is hosting his weekly virtual media briefing.The county paused the use of the single-dose Johnson & Johnson (J&J) vaccine this week. Elrich says Pfizer vaccine doses are helping make up for the loss of the J&J vaccine.@mymcmedia pic.twitter.com/7VMfYiA0hA

— Jordan Lindsay (@TVJordanLindsay) April 15, 2021
See related posts below:
Use of Johnson & Johnson Vaccine Paused Due to Six Blood Clot Cases