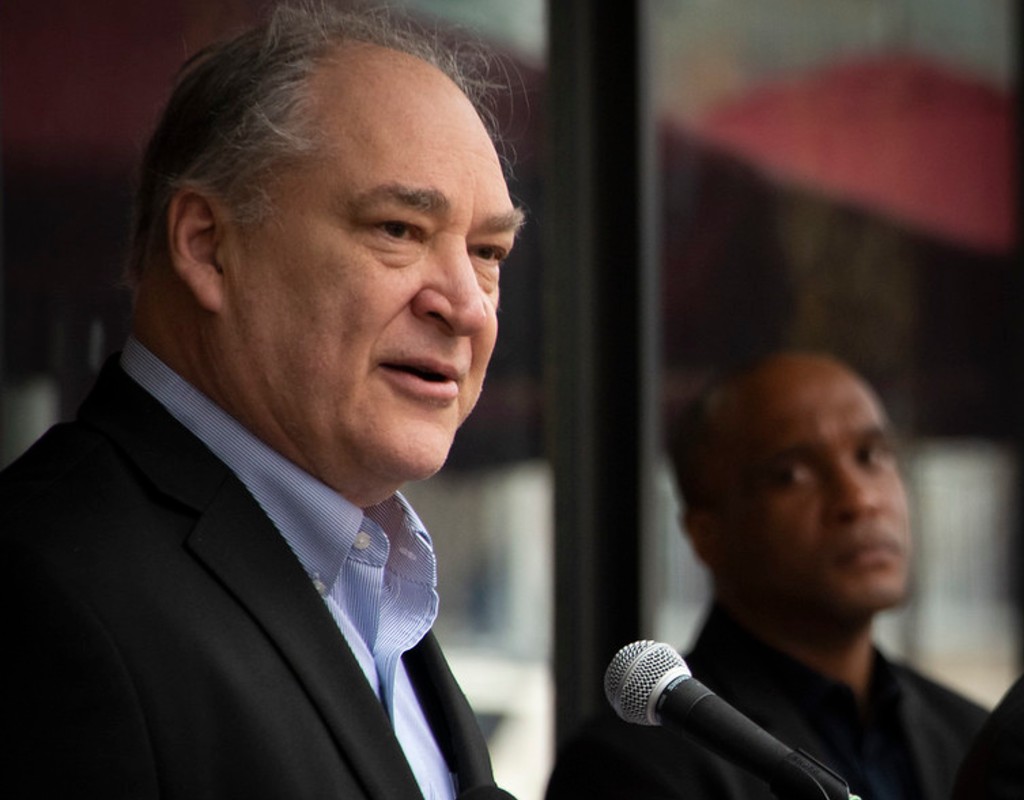 Elrich y el Concejo Responde a Hogan: 'Estamos Consternados y Perplejos'
El Ejecutivo del condado de Montgomery, Marc Elrich, y el Concejo del condado dejaron en claro que no están contentos con el anuncio del gobernador Larry Hogan de "autorizar" a las escuelas a reabrir en persona y presionar para que implementen planes de aprendizaje híbridos.
"Estamos consternados y perplejos de que el gobernador Hogan hiciera este anuncio pocos días antes de que los estudiantes regresaran a la escuela", dijeron Elrich y el Concejo en un comunicado, el sábado. Hogan hizo su anuncio durante una conferencia de prensa el jueves, y el lunes es el primer día de clases para las Escuelas Públicas del Condado de Montgomery (MCPS).
"El cambio de planes para un sistema escolar con 165,000 estudiantes y 24,000 empleados no puede suceder de la noche a la mañana. MCPS ha esbozado un modelo de aprendizaje virtual combinado que, cuando sea el momento adecuado, se implementará ", dijeron Elrich y el Concejo. La declaración dice que "los datos y la ciencia" se tomaron en cuenta para la decisión de permanecer virtual, y MCPS colaboró con expertos en salud pública.
En el plan de otoño de MCPS, el superintendente Dr. Jack Smith dijo que el Dr. Travis Gayles, oficial de salud del condado, recomendó el 20 de julio que el sistema escolar se mantuviera alejado al menos durante el primer trimestre y posiblemente todo el semestre. Tomando ese consejo, la semana pasada la Junta de Educación aprobó por unanimidad un plan semestral de otoño totalmente virtual.
En la conferencia de prensa del jueves, Hogan dijo que todas las jurisdicciones pueden reabrir escuelas en persona gracias a la mejora de las métricas de salud. Citó métricas estatales como: Hasta el jueves, la tasa de positividad de COVID-19 de Maryland había estado por debajo del 5% durante 63 días consecutivos.
Por primera vez la semana pasada, Hogan dijo que las tasas de positividad para todas las jurisdicciones cayeron por debajo del 5% y 17 de las 24 tienen una tasa por debajo del 3,5%. Hasta el jueves las hospitalizaciones habían disminuido casi un 76% desde que alcanzaron su punto máximo hace más de 100 días, y Hogan dijo que los niveles de la Unidad de Cuidados Intensivos habían disminuido un 32% en el último mes. Las disparidades por edad también están mejorando: la brecha en las tasas de positividad en los menores de 35 años frente a los de 35 años o más se ha reducido significativamente.
-Hospitalizations have decreased almost 76% since they peaked over 100 days ago, and Hogan said ICU levels have decreased 32% in the last month.

— Maryam Shahzad (@maryam_mcm) August 27, 2020
Hogan dijo que "simplemente no es aceptable" mantener a todos los estudiantes en casa cuando las métricas se ven mejor.
"Es esencial que todos trabajemos juntos en planes flexibles e híbridos para que algunos de nuestros niños regresen de manera segura a las aulas y a entornos de aprendizaje saludables y de apoyo", dijo. La superintendente estatal, Dra. Karen Salmon, estuvo de acuerdo y dijo que alienta encarecidamente a los sistemas escolares a reevaluar sus planes de otoño para fines del primer trimestre, especialmente aquellos sistemas que planean permanecer virtuales hasta enero, como MCPS.
Las decisiones de reapertura de las escuelas se dejan en manos de las juntas escolares locales, por lo que Hogan no puede exigir el aprendizaje en persona, sin embargo, dijo que las decisiones deben basarse en pautas y puntos de referencia estatales.
MCPS y la Junta de Educación emitieron una declaración conjunta el jueves poco después del anuncio de Hogan. Ofreció el mismo sentimiento que la declaración del condado.
"Agradecemos al gobernador Larry Hogan y a la superintendente estatal Karen Salmon por su orientación sobre el regreso a la instrucción en persona para los distritos escolares locales. Sin embargo, estamos profundamente decepcionados por el anuncio de última hora de esta información fundamental para los sistemas escolares", se lee en el comunicado.
Cuando comenzó el primer día de clases el lunes, algunos padres en las redes sociales informaron problemas con sus hijos al iniciar sesión en el portal myMCPS Classroom.
We're in now with both kids. Seems to be working well after the login glitches. My kids are elementary school.

— RE (@REvolt3d) August 31, 2020
First period login worked through the link the teacher emailed but not thru mcps portal. Second period didn't work with either. It's lunch break now, but we will soon see what third and fourth periods hold in store 😂

— Gina Wears A Mask (@bagladygina) August 31, 2020
NOTA PREVIA
Hogan: Todos los Condados están 'Totalmente Autorizados' para Educación Presencial