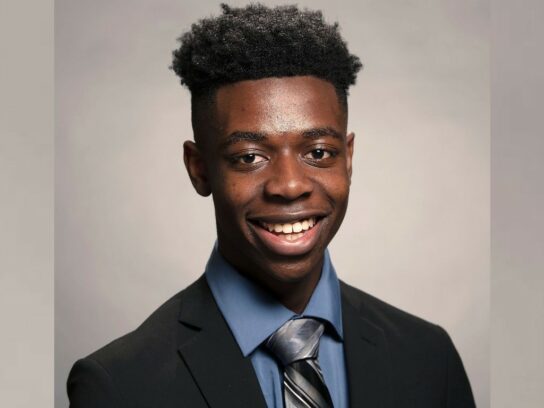 Montgomery County Public Schools' (MCPS) Student Member of the Board of Education (SMOB) Nick Asante held an end-of-year townhall for students on Saturday.
The discussion centered on "Recapping the Year of Resilience."
Keynote speaker Rep. Jamie Raskin (D-Md. 8) acknowledged that the past year has been traumatic considering the devastation of almost 600,000 American lives lost due to the COVID-19 pandemic, as well as the actions of the previous presidential administration.
"It was almost somewhat of a trauma that our government did not respond in an effective way," Raskin said. He said former President Donald Trump refused to develop a nationwide, coordinated plan to mitigate the pandemic.
Raskin recalled his own family's trauma after he lost his son, Tommy. He died by suicide in December 2020. The day following his burial service was Jan. 6, 2021, when the U.S. Capitol building went under lockdown as supporters of Trump charged into the building, as lawmakers worked to certify President Joe Biden's win. Raskin was on the House floor that day.
He told students they can be of any party affiliation, however everyone must defend democracy.
"But everybody should be a constitutional patriot. Everybody should stand up for our constitution which is what binds us together as a country of hundreds of millions of people," Raskin said.
"We are unified not by virtue of being one party, or one race, or one ethnicity or one religion. We are unified by virtue of having one constitution, one rule of law and one set of constitutional values, one set of constitutional processes that we all agree to be bound by. That's why January 6 was such a nightmare and such a danger for our country."
Raskin said people cannot refuse to accept election results because they lose.
Outgoing SMOB Asante shared ways students can stay involved in school matters and advocacy. At the school level, Asante said students can join groups like Student Government Association (SGA), honor societies and key clubs. Students can also express concerns to their administrators, he said. At the MCPS level, Asante said students can testify before the school board and county council. They can also reach out to local officials.
"I know just from sitting on the board this past year, the board members in MCPS really value the student voice within our testimony," Asante said. Students can also be involved in advocacy at the state and federal level by sending testimony and reaching out to state legislators about different bills/topics. They can also join programs led by government officials.
Asante stressed that students should be involved in topics that affect them.
"We are the future, we are one of the most vital voices in determining policy," he said.
SMOB-elect Hana O'Looney joined the townhall and shared some initiatives she plans on leading. She said student representation is a huge issue she sees within MCPS. O'Looney wants to establish a quota that 30% of seats on MCPS policy workgroups be reserved for students.
"Because right now we really do not see a lot of student participation on those workgroups," she said. "And when we do, it usually comes from a very select group of students who are already involved in countywide activism."
LIVE AT 5 P.M.: Hear from @mocoboe Student Member of the Board @nickasante_ for a special end of year townhall for @MCPS students.

Stream: https://t.co/7wkuuRUw64

Tune in: Comcast 34, Verizon 36 or RCN 89 pic.twitter.com/BhlzVNALej

— MCPSTV (@MCPSTV) May 22, 2021