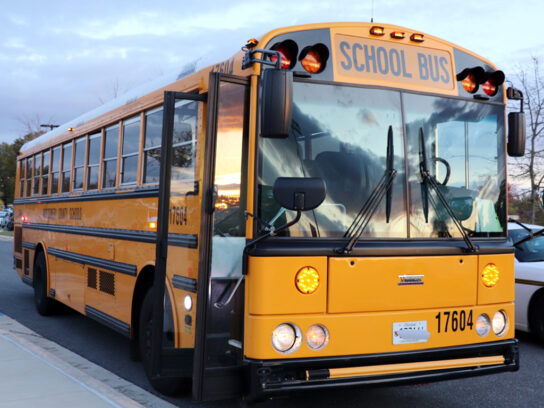 Todas las escuelas públicas de Maryland están cerradas por cuatro semanas adicionales, hasta el 24 de abril.
La superintendente estatal Karen Salmon anunció la decisión en una conferencia de prensa, el miércoles. El 12 de marzo, el gobernador Larry Hogan anunció que las escuelas permanecerían cerradas hasta el 27 de marzo para frenar la propagación de COVID-19.
"Sé lo increíblemente difícil que han sido estas últimas semanas para ustedes", dijo Hogan en la conferencia de prensa del miércoles, dirigiéndose a familias y estudiantes. "Solo quiero que todos sepan que no hay nada más importante para nosotros que su salud, bienestar y educación".
Salmon dijo que el estado podría considerar extender el año escolar, pero primero se está enfocando en un plan de continuidad de aprendizaje para todos los distritos. Agregó que el Departamento de Educación del Estado de Maryland está elaborando estándares de aprendizaje que se aplicarán a todos los distritos escolares del estado para asegurarse de que todos aprendan lo básico, y luego los distritos individuales pueden agregar más al material educativo.
Salmon enfatizó que los funcionarios escolares se asegurarán de que los estudiantes con discapacidades sean acomodados. Habrá más información sobre un plan estatal con estándares de equidad en los próximos días.
Gov. Larry Hogan and State Superintendent of Schools Karen Salmon announced today that they are extending the closure of all Maryland public schools until April 24. All MCPS school buildings will be closed during this time. Visit https://t.co/3UJVLWkg2H for more information.

— MCPS (@MCPS) March 25, 2020
Salmon dijo que el estado planea reanudar la continuidad del aprendizaje la próxima semana y que trabajará en estrecha colaboración con los superintendentes, administradores y maestros para activar los planes educativos. Ella dijo que está trabajando con todos los sistemas escolares para abordar los problemas que afectan su capacidad de proporcionar educación a los estudiantes.
El superintendente de MCPS Jack Smith dijo el domingo en una carta dirigida a las familias que el aprendizaje en línea para estudiantes comienza el 30 de marzo. Smith apareció en un video de MCPS-TV el miércoles, después del anuncio de Salmon y Hogan, llamando al cierre extendido "lo correcto". Smith dijo que a partir del jueves, las familias necesitadas podrán adquirir Chromebooks.
Salmon dijo que las guarderías infantiles pueden permanecer abiertas.
Asegurar que haya opciones de cuidado infantil para el personal esencial como trabajadores de hospitales y distribución de alimentos es un enfoque urgente, dijo. El estado ha identificado espacio para más de 1,200 niños de personal esencial que no pueden quedarse en casa. Salmon quiere aumentar la capacidad a 2.500 niños en los próximos días. Los padres pueden registrarse a través de una línea directa de referencia gratuita al 1-877-261-0060.
Today, @MdPublicSchools Superintendent Dr. Karen Salmon announced that the closure of all public schools in Maryland will be extended for an additional four weeks through April 24, 2020. pic.twitter.com/LV3XfTYuyg

— Governor Larry Hogan (@GovLarryHogan) March 25, 2020
Hay más de 500 sitios de distribución de alimentos en Maryland donde los estudiantes pueden recibir comidas gratis. MCPS ha estado proporcionando comidas gratuitas para llevar a los estudiantes en más de 40 locaciones.
Hasta el miércoles por la mañana, se habían reportado 423 casos de COVID-19 en Maryland, con 127 en el condado de Montgomery.
El gobernador de Virginia Ralph Northam anunció, el lunes, que todas las escuelas K-12 en Virginia permanecerán cerradas hasta el final del año académico.
Cuando los periodistas le preguntaron sobre la posibilidad de que la escuela continuara cerrada después del 24 de abril, Hogan calificó la fecha de reapertura como "algo que aspiran". Los estudiantes no serán enviados de regreso a la escuela si las condiciones aún se consideran inseguras, dijo Hogan.