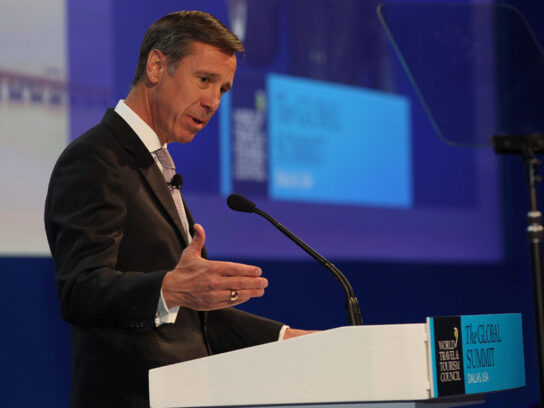 Arne M. Sorenson, presidente y director ejecutivo de Marriott International, murió el lunes.
Hace casi dos años, la empresa, con sede en Bethesda, anunció que le habían diagnosticado cáncer de páncreas y que había estado recibiendo tratamiento recientemente.
Sorenson, que vivía en Chevy Chase, fue el tercer director ejecutivo en la historia de Marriott y el primero que no tenía el apellido Marriott, según el anuncio de la compañía. Los funcionarios de Marriott lo llamaron un "líder visionario." Durante su mandato, la compañía compró Starwood Hotels & Resorts por $13 mil millones de dólares.
"El Sr. Sorenson dirigió a Marriott para lograr un progreso significativo en diversidad, equidad e inclusión, sostenibilidad ambiental y conciencia sobre la trata de personas", según el anuncio.
"Arne era un ejecutivo excepcional, pero más que eso, era un ser humano excepcional", dijo J.W. Marriott, Jr., presidente ejecutivo y presidente de la junta. "A Arne le encantó cada aspecto de este negocio y disfrutó el tiempo que pasó recorriendo nuestros hoteles y reuniéndose con asociados de todo el mundo. Tenía una capacidad asombrosa para anticipar hacia dónde se dirigía la industria hotelera y posicionar a Marriott para el crecimiento. Pero los roles que más disfrutaba eran los de marido, padre, hermano y amigo. En nombre de la Junta y de los cientos de miles de asociados de Marriott en todo el mundo, extendemos nuestro más sentido pésame a la esposa de Arne y sus cuatro hijos. Compartimos tu dolor y extrañaremos profundamente a Arne ".
It is with a heavy heart that Marriott International announces that our beloved President and CEO, Arne Sorenson, passed away unexpectedly yesterday after a fight with pancreatic cancer. https://t.co/jhKkyQF3SP pic.twitter.com/BpHJnWrjy9

— Marriott International (@MarriottIntl) February 16, 2021
El ejecutivo del condado de Montgomery, Marc Elrich, calificó a Sorenson como "un pilar de fuerza en la comunidad empresarial del condado de Montgomery. Como rostro, espíritu y alma de Marriott International, Arne lideró la corporación a lo largo de años de crecimiento y, más recientemente, a través de la pandemia de COVID. La visión de Arne, El impulso por la excelencia y la conducta tranquila fueron admirados por los miembros de Marriott y la comunidad empresarial en general. El espíritu de lucha que mostró durante los últimos años mientras luchaba contra el cáncer de páncreas fue insuperable ".
En el comunicado de prensa, Elrich reflexionó sobre la "personalidad contagiosa" de Sorenson y agregó: "El condado de Montgomery es un mejor lugar para trabajar debido al liderazgo que mostró al frente de este gigante de la hospitalidad internacional".
El presidente del concejo, Tom Hucker, también expresó sus condolencias. "Gracias a su dedicación incansable, encabezó una década de tremendo crecimiento para una de las empresas más grandes fundadas, y con sede en nuestro condado. Su perspicacia comercial era incomparable, pero sobre todo, Arne era un líder dedicado y solidario".
So sorry to hear about the passing of Arne Sorenson. Sending my sincerest condolences to the Sorenson family and the entire @MarriottIntl family. https://t.co/Bz0Sz1d1MN pic.twitter.com/UPZijO68nu

— Councilmember Tom Hucker (@CmHucker) February 16, 2021
Hucker elogió la responsabilidad social de Sorenson con respecto a la diversidad, la equidad, la inclusión, la sostenibilidad ambiental y la concienciación sobre la trata de personas.
El ex ejecutivo del condado, Ike Leggett, llamó a Sorenson "el líder corporativo consumado que hizo una contribución invaluable a la comunidad empresarial, pero fue igualmente generoso y apoyó gran parte de lo que valoramos en la vida cotidiana en el condado de Montgomery. A través de su liderazgo, Marriott pudo expandir y hacer crecer su huella hotelera en todo el mundo, pero nunca olvidó que el condado de Montgomery era su hogar y el de la corporación. Él será extrañado."
En un tweet, el gobernador Larry Hogan llamó a Sorenson "un verdadero visionario que hizo cosas tremendas por Marriott y el estado de Maryland".
El representante de los Estados Unidos Jamie Raskin también tuiteó después de enterarse de la muerte de Sorenson. "Arne no solo fue un líder brillante, sino una fuerza poderosa para el bien en el condado de Montgomery".
Sorenson nació en Tokio en 1959. Tenía 62 años.
Arne Sorenson was a true visionary who did tremendous things for Marriott and the State of Maryland. On behalf of all Marylanders, the First Lady and I extend our deepest condolences to the Sorenson family, and to the entire @Marriott organization. pic.twitter.com/MqNcXwnnBl

— Governor Larry Hogan (@GovLarryHogan) February 16, 2021
Saddened and shocked to learn of the loss of Arne Sorenson to pancreatic cancer. Arne was not only a brilliant business leader but a powerful force for good in Montgomery County. May his memory be a blessing to his grieving family, friends, and the Marriott community. https://t.co/3fKxaD8E31

— Rep. Jamie Raskin (@RepRaskin) February 16, 2021
MCEDC extends our condolences to the Sorenson family & the Marriott community on the passing of CEO Arne Sorenson. Mr. Sorenson was a respected member of the local business & hospitality communities. We are grateful we had the opportunity to work with him> https://t.co/mY19vHl00D pic.twitter.com/r8s3h1DWHt

— MCEDC (@think_moco) February 16, 2021