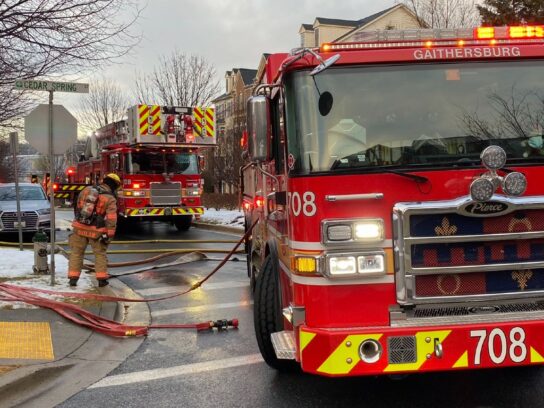 An electrical fire caused Gaithersburg townhome residents to evacuate on Monday but no one was harmed.
The fire occurred at the 500 Block of Odenhal Avenue, near Cedar Springs Street in Gaithersburg. The accident was reported to be caused by an electrical outlet on a first floor landing. Residential sprinklers were deployed, and there was only a light haze as a result of the fire.
Montgomery County Fire and Rescue responded to the call.
Water damage to two units was the only lasting impact.
Update – 583 Odendhal Av, MOR TH, residential sprinkler activation, sprinkler contained/controlled fire, light haze smoke, all occupants ok, fire was electrical in nature (outlet) w/ minor extension on 1st floor landing area, fire is out https://t.co/aFRXOjyLdK

— Pete Piringer (@mcfrsPIO) February 16, 2021
Update (initial dispatch ~715a) 583 Odenhal Av, MOR TH, Electrical outlet 1st floor landing caught fire, fire controlled by residential sprinklers, some water damage to 2 units. No injuries. https://t.co/aFRXOjyLdK pic.twitter.com/IbTEdQ8fgi

— Pete Piringer (@mcfrsPIO) February 16, 2021