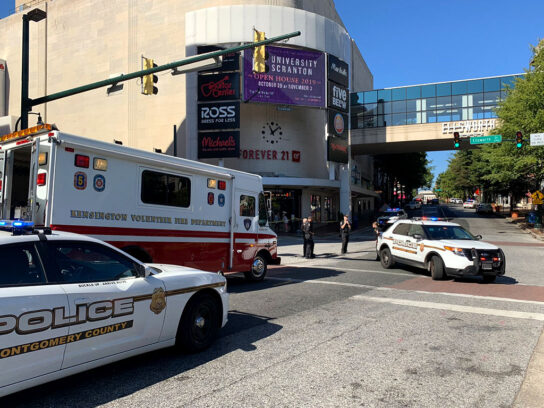 El oficial que recibió un disparó, el lunes por la mañana, en un estacionamiento de Silver Spring murió.
El Concejal Craig Rice, fue uno de los primeros en anunciarlo a través de su cuenta de Twitter:
Saddened to hear about one of our own @mcpnews Montgomery County Police officers shot and killed in downtown Silver Spring this morning. Sending thoughts and prayers to the officer and their family and friends as well as their police brothers and sisters.

— Craig Rice (@RicePolitics) October 14, 2019
La muerte del oficial Thomas J. Bomba en el MedStar Washington Hospital Center fue anunciada por el jefe de policía interino Marcus Jones durante una breve conferencia de prensa, el lunes por la tarde.
Bomba, quien llevaba 13 años trabajando en el departamento de policía, resultó herido justo antes de las 8:50 a.m., en el estacionamiento cerca de la intersección de Ellsworth Drive y Fenton Street en el área de compras y entretenimiento del centro de Silver Spring.
El oficial de 38 años y padre de dos había llamado a su radio sobre "sujetos desordenados" en el estacionamiento, dijo el portavoz de la policía del condado Tom Jordan. Los oficiales que llegaron para ayudarlo lo encontraron herido.
El Concejo del Condado de Montgomery emitió un comunicado junto al jefe de policía interino:
Por otro lado, el Concejal Tom Hucker dijo que toda la comunidad sufre cuando sucede un evento como este. "Sin duda es un recordatorio de los sacrificios que nuestra policía realiza todos los días", dijo Hucker.
Al menos tres escuelas del área estaban cerradas debido al tiroteo.
Tras conocerse sobre la muerte del Oficial, el Ejecutivo del Condado de Montgomery Marc Elrich emitió el siguiente comunicado:
"Este es un día muy triste para el condado de Montgomery. Tenemos alrededor de 10,000 empleados del condado y cuando van a trabajar todos los días, esperan volver a casa esa noche. Esa expectativa no es tan simple para nuestros empleados de seguridad pública. Incluso en sus días más rutinarios, trabajan bajo riesgos que la mayoría de los demás no corren. Hoy, un oficial muy respetado, Thomas J. Bomba, no se irá a casa al final de su turno. Dedicó el trabajo de su vida a los residentes del condado de Montgomery. Era un veterano de 13 años del departamento, que era amigo de los oficiales con los que servía y un protector incondicional de la comunidad que vigilaba. Nuestros pensamientos y oraciones están con su familia, amigos y el Departamento de Policía del Condado de Montgomery. Nuestro condado perdió uno de los nuestros y le pido a la gente del condado de Montgomery que mantengan en sus corazones a la familia del oficial Bomba, sus amigos y colegas en este momento tan difícil ".