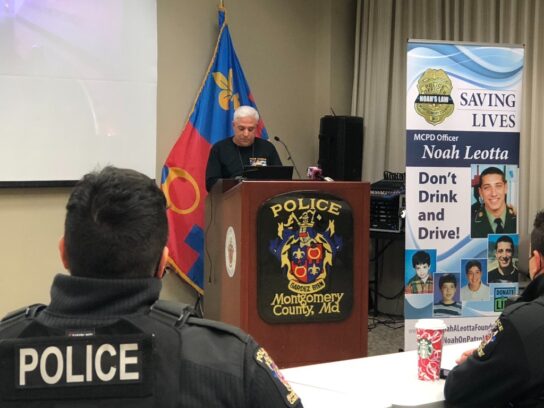 "Noah is with me all the time. My heart is broken all the time." 
Rich Leotta lost his son, Noah Leotta, after a drunk driver struck him on Dec. 3, 2015. He died seven days later. Leotta was a Montgomery County Police (MCPD) officer and member of the Police Holiday Alcohol Task Force. 
"I can tell you first hand that this is something … I can't get beyond it, I can't get over it. I get through it," Rich Leotta said before task force officers Wednesday. He said everyone can make a difference by getting the message out and telling people to plan ahead for a sober ride.
"I mean, there's so many options in today's world," he said. A designated driver, Uber, Lyft, taxi, public transportation and even walking. People hosting parties need to ensure that those who are arriving and leaving are doing so safely, Leotta said.
"Make sure nobody — nobody — is driving impaired. If we care for our friends and family, why wouldn't we do that? It's just common sense."
The MCPD Holiday Alcohol Task Force convened at police headquarters the night before Thanksgiving as they prepared to head out to patrol the streets. The task force works to detect alcohol-related offenses during the holiday season. 
"It could be me. It could be any of you. It was Noah in 2015," Leotta said. He thanked police for their service and sacrifice. He does not want anybody else to feel the way he does. 
"That's why you need to do what you do." Leotta urged officers to be safe while out patrolling. Noah has his arm around you the same way you have your arm around the community, he told them.
Police Captain Jim Brown advised officers to wear their reflective vests if they are on a stop for a long period of time or if they are on the scene of an accident involving someone who drove under the influence. He thanked officers for their efforts to keep drunk drivers off the road.
Week one of enforcement began Nov. 17. Task force officers arrested 37 people for driving under the influence over five evenings in the last week, according to police. This number does not include arrests made by non-task force officers.
At @mcpnews headquarters for the Police Holiday Alcohol Task Force "roll call" — a nightly briefing for officers before they leave to patrol the streets. @mymcmedia pic.twitter.com/hqA2X7CbcQ

— Maryam Shahzad (@maryam_mcm) November 25, 2021